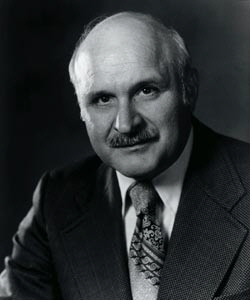 Ed Cvetko has been associated with aviation his entire life, beginning with a tour in the US Army Air Force during World War II and leading to many executive level positions in the Aerospace Industry. Even after considerable consulting and eventual retirement in 1991, his interest and participation in aviation is still going strong.

Ed was a true New Yorker-born in Brooklyn, raised in Queens, and an engineering student at New York University well into his senior year. When the war started he was called to active duty from the ROTC and received a commission in the Army Air Corps as an engineering maintenance officer. He later qualified for flight status and became a flight engineer on both the newly developed Lockheed Constellation and the Boeing B-29 aircraft.
Based on this aircraft experience he was awarded his Aeronautical Engineering degree from New York Univercity, while still in the service. Upon discharge in 1947 he joined Chance Vought Aircraft and started as a structures engineer and progressed through many positions that initially included project engineer, field engineer, airport superintendent, assistant facilities manager, Quality Control Manager, and A7B Program Manger.
In 1969 Ed's promotion to VP Manufacturing marked a major career change from an Engineering discipline to the Operations task of manufacturing all types of Aerospace products. By 1983 he had risen to the position of Senior Vice President of Operations and had assumed additional responsibilities for Materials, Quality Control, Facilities, and Program Management. The era from 1969 to 1983 mandated that production costs had to be reduced to meet fixed price requirements on many new programs. Augmenting our subcontract base was also necessary to meet these new challenges.
In this time frame LTV became the most competitive producer of aircraft structure in the industry. This was primarily achieved by Manufacturing Technology developments in Automatic fastening, a Flexible Machining Center, High Speed Machining, Automatic Composite lay-up, robotics, etc. These cost reduction capabilities led to major new contracts on the 757, 767, B-1, B-2, Candor and C-17 nacelles, and other C-17 business. Resulting increased sales became the foundation for creating the Aero Products Division in 1983 with Ed Cvetko as President.
In 1985 Cvetko became Senior Vice President of Operations for the LTV Aerospace and Defense Corporation. After 37 years with the company Ed retired in 1986 and began consulting, not only for LTV, but also with Allied Signal Corp. (Air Research and all Garrett and Bendix divisions), Grumman Aerospace Corporation, and British Aerospace.
In 1991 Ed phased out of all professional activities and built a lake home to enjoy life. However, the lure of aerospace soon enticed him to rejoin some of his former cohorts in forming the "Survivors" Club, a group of Chance Vought Aircraft veterans who served with Vought during the exciting 1918-1961 period of the company. While "Survivor" Club President for 95/96, he became concerned with the gradual loss of Vought's history. By working with the Vought Retiree Club and Northrop Grumman Management this data is now being preserved. Cvetko currently serves on the governing board of both the Vought Heritage Internet Web Site, and Vought Aircraft Industries Retirement Club aircraft restoration projects.