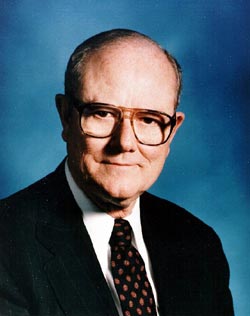 Felix Fenter was promoted to Senior Vice President Ė advanced programs, technologies and marketing, Vought Missiles and Advanced Programs Division, in December 1985.
He was responsible for initial generation and execution of new production programs; development of a technology base to support current and future programs; and domestic marketing operations.
Division programs included tactical missiles, Strategic Defense Initiative projects and space systems, supported by advanced-development in such areas as electronics, electro-optic, aerodynamics, propulsion, structures and materials.
Fenter joined the company as an engineering specialist in 1958. He advanced from research scientist to Associate Director of the LTV Research Center and then to President and Chairman of the Board of the Advanced Technology Center, Inc., a research and development company then jointly owned by LTV and E-Systems, Inc. When LTV acquired full ownership of the research center in 1977, Fenter was promoted to Vice President of Research and Advanced Technology for LTVís aerospace company. From 1981 to 1983, he served as Vice President of Missile Development Engineering.
In 1960 he received the first Ph.D. in aerospace engineering awarded by the University of Texas.
He is an Associate Fellow of the American Institute of Aeronautics and Astronautics and serves on technology advisory committees at Texas A&M University, the
University of Texas at Austin, Southern Methodist University, and the University of Texas at Arlington.