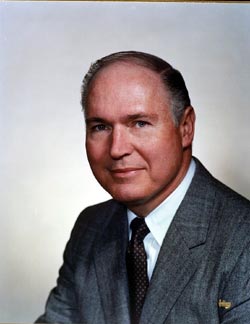 Robert L. Kirk was named president and chief executive officer of Vought Corporation on April 17, l977. Kirk came to Vought from the International Telephone and Telegraph Corporation where he served in the capacity of vice president of the Corporation and product line manager. His responsibilities were worldwide in the defense, civil aviation and marine fields. He joined ITT in 1967 following nine years with Litton Industries.
Kirk's professional career began in engineering with North American Aviation (Rockwell International) in 1955 following three years of service as an officer with the U.S. Navy.
While at Litton, during the period 1958 to 1967 he served in key engineering and marketing positions in its Guidance and Control Division. Kirk was based in Switzerland for four years before he became vice president and head of Litton's Washington Office.
He served on the Defense Industry Advisory Council Committee on Military Exports, and was a charter member of the U.S. Delegation of the NATO Industrial Advisory Group.
A native of Charleston, West Virginia, he was a 1952 graduate of Purdue University where he earned a bachelor of science degree in engineering. He also did graduate work in industrial management at the University of Michigan and the University of Southern California.