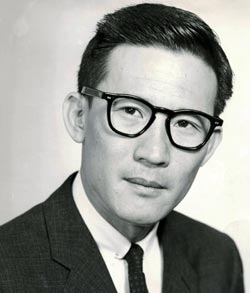 Conrad Albert Lau, aeronautical engineer, inventor, executive, known to his friends and business associates as "Connie", was born on February 8, 1921 in Port of Spain, Trinidad, British West Indies to Mr. and Mrs. Egbert Lau. He was one of a family of four, all boys. His brothers were Neil, Roy and John. He and his wife Nancy Page Lau had three children, Conrad, Jr., Sally and Michael.
Conrad attended school in Trinidad through his sophomore year at Queen's Royal College. He entered Massachusetts Institute of Technology in his junior year. He received his B. S. Degree in 1942 and his Masters Degree in Aeronautical Engineering in 1943. While at MIT he was on the Dean's List in for high scholastic achievement, and he was elected to membership in TAU BETA PI, National Honorary Engineering Fraternity. Also, at MIT in recognition of his Christian leadership he was elected Secretary of the Technical Christian Association, a student organization of all Christian denominations dedicated to practicing and encouraging the Christian life.
Conrad joined Chance Vought Aircraft, Division of United Aircraft Corporation upon graduation from MIT in 1943. He devoted his entire professional career to the Company that had become Ling-Temco-Vought, Inc. at the time of his untimely death, April 18, 1964. Through his initiative, superb intelligence, and human warmth, he had advanced rapidly from the position of Junior Aerodynamics Engineer to Director of the U. S. Navy VAL Light Attack Aircraft, Program for LTV.
Conrad made significant personal contributions to the United States Defense programs beginning with the F4U Corsair of World War II fame flown by both Navy and Marine Corp pilots, who racked up an 11:1 kill ratio over the Japanese in the Pacific. Continuing with the F7U Cutlass series, and the many versions of the famous F8U Crusader aircraft, Conrad directed the Vought VAL Light Attack Aircraft Program. The program was Vought's response to the U. S. Navy's request for a light attack aircraft based on an existing design to keep the costs down. Vought's design based on the F8 Crusader won the competition and the Corsair II was born. The resulting A7 series aircraft from the A-7A through the A-7E and TA-7C were supplied to the U. S. Navy and to a lesser extent the U. S. Air Force.
Conrad had many professional interests. He was associate fellow in the American Institute of Aeronautics and Astronautics. He served as an advisory member of the National Aeronautics and Space Administration Committees on Aerodynamics and Aircraft Design for many years.
Outside of his professional work he had many interests. He was a charter member of the Dallas Ski Club and the Dallas Sailing Club and he was also studying music. He had become quite accomplished on the guitar. As a graduate of MIT he was a member of the MIT Club.