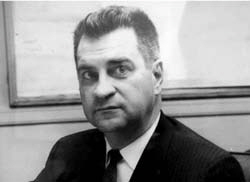 Henry John "Hank'' Merbler was born August 2, 1920, in Passaic, New Jersey. Hank attended grade school and high school in Garfield, New Jersey and was elected President of his 1938 Senior Class.
After a grueling 24-months of concentrated shop work at the Newark, New Jersey Airport, and a design course in which each student had to design their own airplane, Hank graduated, on March 21, 1941, with an associate's degree in Aeronautical Engineering from the Casey Jones School of Aeronautics.
On March 24, 1941, three days after graduating from the Casey Jones School of Aeronautics, Hank started to work in the Engineering Department at Vought-Sikorsky Aircraft in Stratford, Connecticut. Hank's first job was working in the Wing Design group. As an engineer he was assigned to the F4U Corsair design team to design the inboard center section flaps and the engine cowl flaps. In 1942 Hank went to work in the Structures Department.
Hank married Beatrice "Bea" Irene Loomis on November 26, 1942. Bea and Hank had three sons, Jack, Kenneth and Richard, six grandchildren and 2 great-grandchildren. Bea died at home on August 10, 2008 after 65 years of marriage.
Hank moved with his family to Texas when the Chance Vought Corporation moved to Dallas from Stratford, Connecticut, in 1948 and became Chief of Quality Control. In 1950, he was assigned to Production Flight Test Operations for the F6U-1 at Ardmore Oklahoma. Later in the early 1950s, Hank became the Chief of Experimental and later moved on to be the Night Superintendent. In 1955, Hank became the Superintendent of Final Assembly, at the peak of F4U production. Hank oversaw 3 shifts, and about 500 employees. Work in Final Assembly started with the F4U, then moved on to the F6, the F7, the F8, Regulus 1, and Regulus II. Hank also became involved with the Lunar Excursion Module (LEM), the Multiple Launch Rocket System (MLRS), the Scout Program, and the carbon-carbon program for the leading edges of the Space Shuttle. In the 1965-1966, Hank got involved with the Blackfeet Indian tribe at Fort Yates, along the border of North and South Dakota. Hank's assignment was to determine if the Blackfeet Indians could fabricate wood furniture and electrical harnesses for Vought.
After Hank first retired in 1982, he did more golfing, and did 10 years of consulting work for Vought, Murdock Engineering, and Whitehall Corporation.
Hank entered politics in 1980, where he lived in Pantego, Texas, because he thought taxes were climbing too high. During his 28 years in politics, in Pantego, he was a Council Member (1980-1984) and the Mayor (1987-1991). Hank was known as "The Walking Mayor'' because he walked the entire 13 miles of roads in the 1. 1 square miles of the town before he was elected, knocking on every door and getting to know nearly all the citizens. He walked to every Council meeting at Pantego's Town Hall, and he also talked to citizens along the way. Pantego citizens loved Hank because he was conservative, a penny pincher with their money, and always wanted and solicited their input.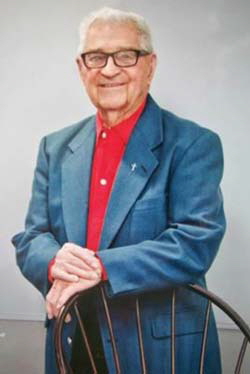 Hank was elected President of the Arlington Senior Men's Golf Association (Arlington, TX), President of the St. Maria Goretti Catholic Church Leisure Club (Arlington, TX), President of the Serra Club (a Catholic organization), President of the Horizon Bay Resident Council (2011-2013) and Vice-president of the Horizon Bay Resident Council (2014)
With the formation of the Vought Retiree Club, in 1996, Hank became President of the Vought Retiree Club (1996), President and Chief Operating Officer of the Vought Aircraft Heritage Foundation (2002), and Chairman and Chief Executive Officer of the Vought Aircraft Heritage Foundation (2010).
Hank Merbler has, so far, been a very successful leader as an engineer, in the political arena and within his social organizations.
The extended version of this biography
Production Flight Test Incident