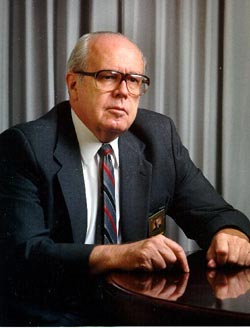 Robert N. Parker became Executive Vice President of LTV Aerospace and Defense Company, a subsidiary of The LTV Corporation, in 1991. Prior to that, he was President of LTV Missiles and Electronics Group and a group vice president of The LTV Corporation.
Parker was appointed President of the Missiles Division of LTV Missiles and Electronics Group in 1983. In November 1986 he was named President of the group and a group vice president of The LTV Corporation.
He joined LTV on 1 March 1979 as Senior
Vice President of Research and Engineering for Vought Corporation having come from the Business Communications Group of Northern Telecom, Inc. of Canada, where he had been group Vice President.
Previously, he served as Principal Deputy Director of Defense (Research and Engineering) for the Department of Defense from 1973 to 1977. Before that, he held other executive positions with Hoffman Electronics, Rockwell International, Hughes Aircraft, and the U.S. Department of Transportation.
Parker earned a bachelorís and masterís degrees in electrical engineering from The University of California at Los Angeles in 1954 and 1956, respectively. He served in the U.S. Air Force from 1946 to 1949, and again from 1951 to 1953 during the Korean conflict.
He received the John W. Dixon Award in October 1990 from the Association of the U.S. Army, an award established to recognize distinguished industry leaders who have made significant contributions to Americaís defense.