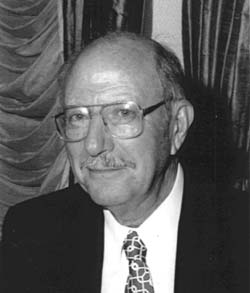 Milton J. Rudick was born October 12, 1920 in New York City. He received bachelorsí degrees in chemistry and biology in 1941, and in mechanical engineering in 1944 from the City College of New York. Mr. Rudick also did graduate work in nuclear engineering at Southern Methodist University in 1956-57. In World War II, he served in the Army of Occupation in Italy as a Second Lieutenant in Ordnance.
He began his career in the aerospace industry in 1944 at Chance Vought Aircraft Company in Stratford Connecticut and moved to Texas with the company in the Corporationís move to Dallas in 1949. Miltís initial job at Vought was in the Structural Materials Group. He made rapid progress into management responsibilities holding the positions of Chief of Applied Research and Development, Chief of Space Technologies and Chief Engineer Technologies. At the time of his retirement in 1977, Mr. Rudick was Vice President of Engineering, LTV Aerospace Corporation, Missles and Space Division. During his career in the Aerospace Industry, he made significant contributions in the development of the F8U-1 Navy Fighter, NASA Scout Launch Vehicle, and the NASA Space Shuttle Thermal Protection System.
Shortly after his retirement, he returned to work for several years as a Director for Aerospatiale Helicopter Corporation, (AHS), formerly the Vought Helicopter Corporation. In this position he acted as Technical Director for the development of a Rescue Helicopter for the Coast Guard which was designated the HH-65A Dolphin.
He was an active member and officer of numerous business and scientific organizations including AIAA, President of the North Texas Chapter American Ordnance Association, and Chairman of the National Academy of Sciences Materials Advisory Boardís special panel to determine U.S. Air Force manufacturing requirements for l970-1985. In addition to his business interests, he was a long-term member of the Dallas Camera Club, serving as president in 1955. He was active in sailing, the Civil War Roundtable, and was a volunteer at the Dallas Arboretum for many years until his death in 1997.
Select here to read about his Lady Engineer wife Dorothy (Tiny) Rudick.