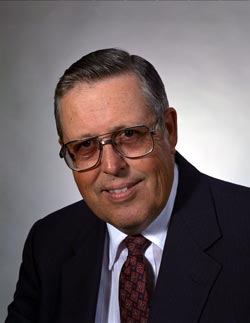 Billie M. Smith was promoted to president of Vought Aero Products Division on July 25, 1985, succeeding Philip A. Greco.
Billie M. Smith became President of LTV Aircraft Products Group and a Group Vice President of the LTV Corporation in November 1986.
Smith had been Executive Vice President and general manager of missiles of Vought Missiles and Advanced Programs Division since 1983.
Smith joined LTV Aerospace in 1966 as Manager of Advanced Launch Systems at the Texas division of Vought Missiles and Space. He was reassigned to Michigan operations in 1967 as Chief Engineer – System Integration, became Deputy Director of Lance Battlefield Missile Program in 1968 and became Lance Program Director in 1969. Under Smith's direction, Lance went into production, successfully completed the test program, became a standard piece of U.S. Army equipment, and was purchased by a number of NATO countries.
He was named a Vice President in 1971, advancing to Vice President and General Manager of Michigan operations in 1972. He was named Senior Vice President of Advanced Programs in 1977. In 1979, Smith was named head of the Multiple Launch Rocket System program, which earned an excellent reputation for high-quality, on-budget, on-time performance. In 1980 he was named senior vice president and general manager of the MLRS division.