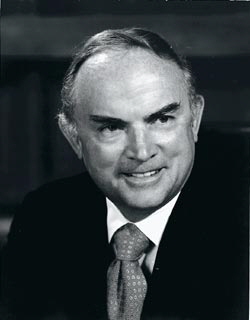 One of the truly great leaders of the Aerospace Industry, William Paul Thayer, Chairman and CEO of LTV Aerospace Corporation. was as much at home in the cockpit of a jet fighter as he was in the presence of the giants of the business and military world. Taking over the reins of the LTV corporation when it was at its lowest ebb, he brought the organization from the verge of bankruptcy to a healthy, viable leader in its field. Dynamic, charismatic, tough, wily and friend to all of his employees, are but a few of the attributes that form his character.
Paul has always been a winner. A Navy fighter ace in World War II, he joined Vought as a Test Pilot in 1948 and rapidly progressed to Chief Test Pilot in 1949, Flight Test Director, Vice President of Sales in 1951 and finally Company President in 1961. In 1970, the parent LTV Corporation fell into deep financial distress and Paul was called upon to tackle the biggest challenge of his career, saving the corporation. And save it he did! Facing down the major creditor and energizing every element of the organization, he not only brought the firm into the black but set new records for sales and reestablished LTV as a major player in the industry. With the corporation in sound shape, he accepted the invitation of President Reagan to serve as Deputy Secretary of Defense. He was sworn in on 12 January 1983 and served with distinction.
A native of Henryetta, Oklahoma, he attended high school in Wichita, Kansas and spent a year at Wichita State University. After a year off working in the oil fields as a roughneck, he returned to college at the University of Kansas and enrolled in the Civilian Pilot Training Program to become a pilot. He entered Naval Aviation Cadet Program in mid-1941, receiving his wings and commission in March 1942. He was assigned to Squadron VF-26 flying the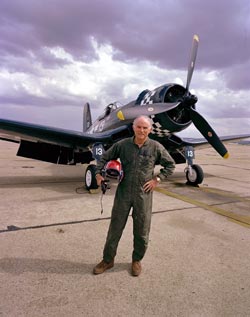 Grumman F4F 'Wildcat' and became an ace with 6 confirmed and 4 probable aerial victories and 9 more Japanese aircraft destroyed on the ground. He also shared in the sinking of a Japanese destroyer with 4 other Navy pilots. having fought the good war he resigned from the Navy as a Lieutenant Commander. After 2 years as a TWA transport pilot, he joined Chance Vought Aircraft Company as test pilot.
In retirement, Paul is as dynamic as ever, flying his Confederate Air Force F4U-1 Corsair at air shows, flying around the world, participating in African Safaris, he continues to be a man of adventure. He also continues to be a friend to all of his employees and regularly attends Retiree functions where is always welcomed by the Vought 'family.'
Flight Test Incident XF6U-1 - Paul Thayer's Dead Stick Landing