Events - 1931 - 1933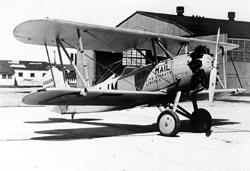 The company's first metal monocoque fuselage airplane, the XO4U-1, was built in 1931. In March of that year the U.S. Navy ordered 25 observation planes designated the 03U-1 Corsair from the Chance Vought Corporation with an award of $400,455. Eventually the Navy ordered a total of 87 of these airplanes that were used for observation work with battleships and cruisers and for scouting with carriers. On battleships and cruisers, they were equipped with pontoons and were to be operated from catapults.
In July of 1931, the corporation announced the planned production of a new version of the O3U-1 with many improvements that would make it the fastest service-type aircraft built for the U.S. Navy. The airplane was designated the O3U-2 and was equipped with a 575-horsepower Hornet engine. Following a $280,650 order for 15 O3U-2's, the designation was changed to SU-1 when the airplanes were assigned to the Marines. An additional 14 were added to the original 15. In November the Navy placed an order for 85 SU2, SU-3, and SU-4 airplanes. The contract amounted to $3,000,000, with a schedule of fourteen months to complete deliveries. Chance Vought Corporation, at that time, had 330 employees. The schedule called for production of six planes each month until March 1, 1932, with a testing period from that date to June, 1932. After June, the schedule called for nine airplanes per month.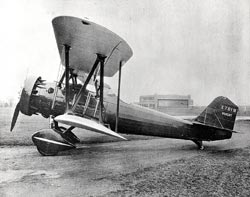 During 1932 and 1933, Vought sold various O3U airplanes to foreign countries; Argentina, Brazil, China, and England. These airplanes were given a V-65 or V-66 designation with a letter suffix to identify the customer. The 65 and 66 indicated whether the airplane was an O3U-2 or O3U-3 version. The Brazilian government ordered 37 Vought O3U-1 Corsairs, designated the V-65B.
Joseph F. McCarthy was replaced by E.K. Hubbard as Secretary-Treasurer in 1932.
On August 13, 1933, the Chance Vought Corporation passed a milestone in aircraft production: one thousand aircraft produced. Joseph L. McClane was named factory manager of the Chance Vought Corporation, succeeding James M. Dean
Events for 1931 - 1938
1931 - 1933
1934
1935 - 1937
1938