Files for Chapter 11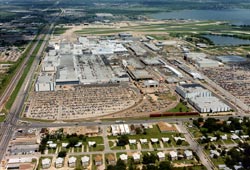 The United States Bankruptcy Court for the Southern District of New York authorized the LTV Corporation to assume its existing government defense contracts. The hearing July 24, 1986 was in connection with LTV's petition for reorganization under Chapter 11 of the Federal Bankruptcy Code filed in the New York court on July 17, 1986.
U. S. Bankruptcy Judge Burton R. Lifland issued the order which LTV called essential to its ability to reorganize. The move allowed LTV Aerospace and Defense Company to continue performance of defense contracts and comply with the terms and conditions of those contracts, including payment of pre-petition claims by vendors and suppliers. The ruling applied to cases in which LTV was a prime contractor or a subcontractor.
LTV Chairman and Chief Executive Officer Raymond A. Hay said the action by the court represented a crucial step in the company's reorganization process. "This approval assures the government that Chapter 11 proceedings will not impede or delay LTV's performance of its defense contracts," Hay said.
In its petition, LTV said the government is the largest single customer of its aerospace/defense unit, representing 92 percent of its $4.7 billion in 1985 backlog and approximately 86 percent of its $2.3 billion in 1985 sales.
LTV Aerospace and Defense Company's government business is its "lifeblood", said LTV, and its near-and long-term prospects depend upon the "uninterrupted continuation" of its government business and the cash flow which it generates.
In addition to its business reasons, LTV said national security was another consideration in its request to the court. Crucial government defense programs in which LTV is involved would have been "stalled" if performance were interrupted, and could have had "grave consequences for the national defense and all taxpayers."
In addition, Hay noted the LTV Aerospace and Defense Company has a significant international defense presence which aided the court's approval of the LTV petition.
"LTV Aerospace and Defense Company's foreign defense customers, subcontractors, suppliers and partners should be reassured that the company has both the ability and the will to honor all of its international defense commitments," Hay said.