Selling Off of Company Assets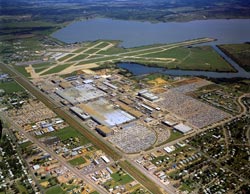 The LTV Corporation filed for Chapter 11 on July 17, 1986, in New York. It sought protection for itself and 66 subsidiaries. On July 24, the United States Bankruptcy Court for the Southern District of New York authorized the LTV Corporation to assume it's existing government defense contracts, which was essential to its ability to reorganize.
The reorganization of the company plan was based on the impending sale of LTV's aerospace and defense business.
The New York Times headline said "LTV put glamour assets on block". Several stories called the aerospace and defense operation "big" and "lucrative". The Wall Street Journal estimated a sale price of $500 million. The Dallas Times Herald coverage emphasized, as did other stories, that the sale of the aerospace and defense business would leave LTV almost exclusively a steel company.
LTV Aerospace and Defense had four divisions: Aircraft, Missiles, AM General and Sierra Research. On February 20, 1992, LTV received clearance to sell AM General to a New York based private investment group for $133 million.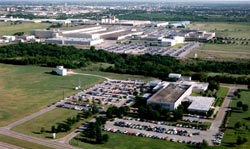 A bidding war occurred over the sale of Aircraft and Missiles. The original bidders were The Carlyle Group for Aircraft and Thomson-CSF for Missiles against Lockheed/Martin Marietta for Aircraft and Missiles. Thomson-CSF was rejected by the government as it was a French-owned company. The government did not want the sensitive missile's technology in the hands of a foreign-owned company. After Thomson-CSF rejection, the winners emerged as Carlyle-Northrop-Loral by bidding $440 million in cash and $25 million in preferred stock.
On August 31, 1992, The Carlyle Group, a Washington based investment group purchased 51 percent, Northrop purchased 49 percent of the Aircraft division and Loral Corporation purchased 100 percent of the Missiles division. The Missiles division was named Loral Vought Missiles Division
On August 31, 1994, Northrop Grumman acquired The Carlyle Group's 51 percent of Vought Aircraft Company. Northrop Grumman now owned 100 percent of Vought Aircraft Company and named it their commercial aircraft division.
NAME CHANGES
Sales, mergers, acquisition and name changes are nothing new to the company that became LTV Aerospace and Defense Co. In fact, history shows changes in name and ownership have occurred with some regularity:
1922: Lewis and Vought Corp., founded in 1917 by Chance Milton Vought, changed its name to Chance Vought Corp.
1929: Chance Vought Corp. became a subsidiary of United Aircraft and Transport Corp. and moved from Long Island to Hartford, Conn.
1935: The company became a division of United Aircraft manufacturing Corp.
1939: Chance Vought Aircraft Division merged with Sikorsky Aircraft Division to become Vought-Sikorsky.
1943:Chance Vought Aircraft separated from Sikorsky.
1945: Temco was organized by a group of managers of the World War II North American Aviation defense plant on the Jefferson Avenue property.
1948: Chance Vought Aircraft moved to Dallas.
1954: Chance Vought Aircraft separated from United Aircraft to become Chance Vought Aircraft Inc.
1960: Temco merged with Ling-Altec Electronics to become Ling-Temco Electronics.
1961: Chance Vought Corp. merged with Ling-Temco Electronics to become Ling-Temco-Vought Inc. (Chance Vought Corp. remained as an operating company.)
1963-1976: A number of variations of "Vought Aeronautics" identified the aerospace/defense operations and in 1976, LTV Aerospace Corp., a name adopted in 1964, was changed to Vought Corp.
1983: LTV acquired Sierra Research Corp. of Buffalo and AM General Corp. of Detroit and realigned its aerospace/defense operations and renamed Vought Corp. as the LTV Aerospace and Defense Co.
Since 1983, the aerospace/defense business has seen several reorganizations, with accompanying name changes.