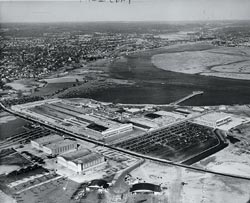 An effort was made in January 1939 to improve United Aircraft's operations by providing space to those needing expansion and at the same time fill the large Sikorsky plant at Stratford with more business. Hamilton-Standard was moved from the buildings it shared with Pratt & Whitney into the Chance Vought East Hartford facility. Vought was moved from East Hartford to the larger Sikorsky facilities at Stratford. In April of 1939 the two divisions were merged and called the Vought-Sikorsky Aircraft Division, United Aircraft Corporation. Rensselaer W. Clark was named General Manager and Eugene E. Wilson left Vought to join corporate management at United Aircraft.
C. J. McCarthy became General Manager of Vought-Sikorsky Aircraft in 1940. In 1942 Vought and Sikorsky were separated back into two separate divisions of United Aircraft. Vought efforts were directed toward combat aircraft, while Sikorsky's efforts were directed toward helicopters. In 1943 Rex B. Biesel was named General Manager of the Vought division. Vought employment stood at 4.450 in 1940 and by 1943 had increased to 13,447.
In 1948 the Chance Vought Division of United Aircraft began the move from Stratford Connecticut to Dallas Texas. The move was completed in 1949 and Frederick O. Detweiler was named General Manager in December of that year.