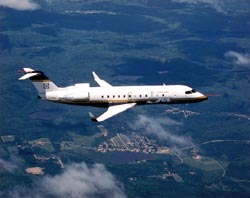 LTV Aircraft Products Division received a $36 million contract in September 1989 from Canadair Division of Bombardier, Inc., Montreal, Canada, to produce 106 engine nacelles for 53 Canadair Regional Jet aircraft. The contract covered design and production of two nacelles, or engine housings, for each of the 53 flight test and production aircraft.
The Regional Jet is a 50 passenger derivative of the Challenger 601, which Bombadier announced earlier in 1989 that it would build.
Its use would allow regional airlines to serve low-passenger-volume areas farther away from major hub airports than were served by turboprops. Canadair estimated the size of the market for the new aircraft at 500 to 700 units. Through June 1989, Canadair had commitments for 116 of the new aircraft prior to start of production. The nacelle for the new Regional Jet was redesigned for improved maintainability and accessibility to reduce engine change times and speed routine maintenance.
LTV Aircraft Products had built engine nacelles for the Canadair Challenger 601 since 1982 and had delivered 203 sets of twin nacelles through March of 1993 when Canadair decided to outfit its Challenger 601 with the improved nacelles used on the Regional Jet. Vought built 105 ship sets of nacelles for the Regional Jet with last delivery occurring on April 5, 1995.