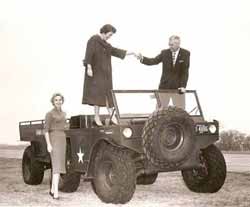 The year 1959 brought new challenges to Vought in terms of maintaining a satisfactory business base. Branching out beyond it's traditional military aircraft role, Vought ventured into the area of military ground vehicles. With an open door for new ideas , the concept for a revolutionary new 6 wheeled, articulated, all-wheel-drive machine found its way to Vought's attention:. Nicknamed the Gama Goat, the title was derived though a combination of the name of the concept inventor, Roger L. Gamaunt and the Goat-like agility of the vehicle. Within 6 months of concept introduction, Gamaunt was placed under Vought Contract contract for the prototype development and Vought received a license to manufacture the production vehicles.10 months later the prototype was delivered to Vought.
Shortly after delivery, a young Vought Engineer, Bill Janowski,, with a strong background in amatuer auto racing and car building credentials, was assigned to the project and was destined to be a major part of this venture to this very day! After field tests successfully completed locally, the Gama Goat was introduced to US and international interests in many countries. In early 1963 the US Army awarded a contract for 2 test vehicles designated the XM561 plus 14 production prototypes. In early 1968, after a thorough round of of testing the US Army awarded a production contract to the Consolidated Diesel Electric Corp. The Goat served with the military until the late 1980's when it was phased out in favor of the now famous M998 HuMVee.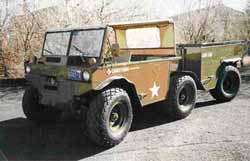 In May 1980. Bill Janowski purchased the Corvair engine powered prototype from Mr. Gamaunt and used it in his tire testing business for many years. In 2007, Bill completed full restoration of this vehicle…the completion of a cycle nearing the half-century mark!
Gama Goat:
Other Wheeled Ground Vehicle Programs
Sources, References and Credits