Model Name: Lillie-Vought BiPlane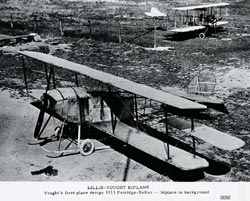 Max Lillie founded the Lillie Flying School at Cicero Field, Chicago. He passed a very superior brevettte test to receive the first Expert Aviator certificate from the Aero Club of America.
Max Lillie, who also taught Vought to fly, needed an airplane better than a Wright pusher for exhibition flights at county fairs. Vought designed a tractor biplane to Lillie's requirement, which featured a 50-hp Gnome engine. The airplane's main feature was its staggered biplane wing. Its first flight was in 1913. Only one of these airplanes was built.
| | |
| --- | --- |
| Speed: | 50 mph (80.5 kph) |
| Span: | 32.00 feet (9.75 meters) |
| Length: | 24.25 feet (7.39 meters) |
| Height: | 8.33 feet (2.54 meters) |