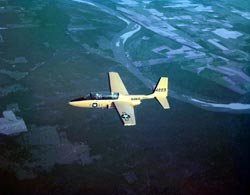 A two-seat jet primary trainer, the Temco TT-1 was a mid-wing cantilever monoplane accommodating pupil and instructor in a tandem, raised-rear-seat arrangement. The airplane had dual controls and ejection seats, mechanical push-rod flight controls, and electrically actuated trim tabs.
The Temco Model 51 was the first primary jet trainer accepted by one of the U.S. military services. It was stressed for an ultimate load of 11.25 "g" and extra structural strength was built into the airframe to permit installation of engines with greater power than the Continental J-69-T-9 turbojet.
The prototype of the Temco 51 first flew on March 26, 1956 and was sent shortly afterwards to the U.S. Navy base at Patuxent River, Maryland, for evaluation with the Beech Model 73 Jet Mentor.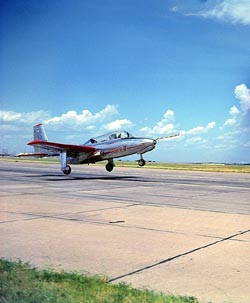 As a result of these trials, the Navy ordered a batch of 14 Model 51s, under the designation TT-1, for use by the U.S. Naval Air Training Command to "determine the feasibility of beginning a student pilot's flight training in jet-propelled aircraft." Delivery was scheduled to begin in July 1957.
North American's World War II P-51 Mustang was designed, built and flown in 100 days. Temco bettered that record by cutting the time to 75 days in its creation of TT-1 Pinto Primary.
A very dramatic and near fatal occurrence took place during the flight testing of the TT-1. The elevator trim tab system had a serious design flaw in its actuation linkage, resulting in a springy system that permitted the trim tab to go into a flutter mode at higher speeds. The trim tab flutter drove the left hand elevator and horizontal stabilizer into their own flutter mode, resulting in the left hand horizontal stabilizer breaking away from the airplane, carrying the elevator with it. With professional skill and quick thinking, the pilot was able to utilize the remaining (right hand) elevator in combination with the airplane's speed brake to avert the impending loss of his life and the loss of the airplane.