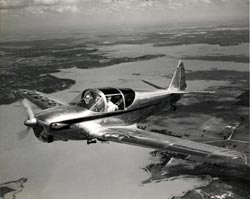 The Swift is a two-place, inexpensive, all metal, low-wing monoplane (GC-1A) that is rugged and fun to fly. The GC-1A was designed and initially built by the Globe Aircraft Company of Fort Worth, Texas. Globe's first prototype of the Swift appeared in 1945. TEMCO built its first Swift (GC-1B) in 1948 and completed the final one in August of 1951.
Hundreds of Swifts are still flying in 1998. An organization that has become an important accessory in keeping the Swifts flying is the "International Swift Association" and the "Swift Parts Co.", which are parented by "The Swift Museum Foundation, Inc., in Athens, Tennessee. The Association owns the Swift type certificate and manufactures parts from the original factory dies and tools. The Association also sponsors fly-ins that are attended by Swift owners from all over the United States and Canada.
There is a long list of modifications to the Swift, many still flying in 1998. For example: modifications range from installing a 200-horsepower turboprop engine, to the installation of a 420-horsepower turboprop engine.