LTV Texans Help Track Astronaut
June 1, 1962
Based in Hawaii,
LTV Texans Help Track Astronaut
The "Eyes of Texas" — in this case eyes of the LTV Texans in the Pacific, were on Astronaut Scott Carpenter when he became the second American to make an orbital space flight.
Helping to track the Mercury capsule was a crew of Texans working in the PMR tracking station on Kauai Island, Hawaii, a facility operated by Kentron Hawaii Ltd., a subsidiary of LTV.
High on the slopes of Kokee Park on tropical Kauai, 48 employees of LTV operated the radar, telemetering and communications network for the tracking station. Theirs is one of five major control stations in the capsule recovery program.
Among Texans at the Hawaii site are Bob Hill of Stephenville, site supervisor, and these from Dallas: James Huntsinger, telemetry; Charles Hughes, operational coordinator; Maurice Bean, materials coordinator, and Ron Alera, chief of operations at both Kokee Park and Barking Sands, where the company operates tracking facilities for the Vought-built Regulus missiles and Navy submarines and cruisers. Another Texan, Norman Crisp of Vernon, was in charge of precision radar tracking for Carpenter's flight.
The Hawaiian-based group previously had helped track Astronaut John Glenn on the first orbital flight and also had tracked Enos, the monkey.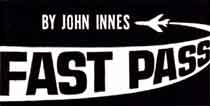 Well, sir, it's taken ol' Fast Passer a long time to get wise to what a real racket chief test pilot John Konrad and his fellow birdmen have got but here, at long last, is the lowdown in the form of an essay by Tommy Tyler, a fifth grade student at Jefferson School, Beaufort, S. C.
Titled, aptly enough. "Why I Want To Be a Pilot," this informative treatise goes like this:
"When I grow up I want to be a pilot because it's a fun job and easy to do. That's why there are so many pilots flying around these days. Pilots don't need much school, they just have to learn to read numbers so they can read instruments. I guess they should be able to read road maps, too, so they can find their way if they get lost.
"Pilots should be brave so they won't get scared if it's foggy and they can't see, or if a wing or a motor falls off they should stay calm so they'll know what to do. Pilots have to have good eyes to see through clouds and they can't be afraid of lightning or thunder because they are much closer to them than we are.
"The salary pilots make is another thing I like. They make more money than they know what to do with. This is because most people think that plane flying is dangerous, except pilots don't because they know how easy it is.
"I hope I don't get airsick because I get carsick and if I get airsick I couldn't be a pilot and then I would have to go to work."
For the record, this little gem is reprinted from the Sikorsky News which reprinted it from The Jet Stream, base newspaper at the Marine Corps Air Station in Beaufort. That's one of the ways news gets around these days.


Freedom Bond Drive
June 1, 1962
LIFT OFF!
Ann Wyatt, secretary to Vice President and Technical Director R. C. Blaylock, kicks off the LTV Freedom Bond Drive by posing at the base of a Savings Bond rocket model in front of company headquarters.

Freedom Bond Drive Begins In LTV Plants

A one-week Freedom Bond drive gets under way at LTV plants this coming week, with all employees to be contacted either (I) to sign up for the payroll deduction plan for bonds, or (2) to increase their present deductions.
Approximately 65% of employees in the Dallas area LTV units already are purchasing bonds. But some divisions have as low as 30% participation, while one, Temco Aerosystems at Greenville, has approximately 90%.
All employees will be contacted during the week, however, to give everyone an opportunity at "the easiest way to save — payroll deductions for bonds."

Will Contact Everyone

There will be no hoopla — no brass bands pouring out patriotic music. But there will be an earnest effort to contact everyone and acquaint him with the advantages of systematic saving, which at the same time provides the nation with dollars for defense.
James J. Ling, LTV vice chairman of the board, is the Dallas County bond campaign chairman this year, and is a firm believer in the payroll deduction program for saving.

"I don't believe that any of us in the defense industry should need to be 'sold' on the importance of Savings bonds purchases for our national defense programs and the exploration of space," he said. "We should already know the need for this effort, and our purchase of bonds will help further these vital programs. In buying bonds, we not only help ourselves financially, but do our part in preserving the freedoms we currently enjoy."

Have Personal Stake

G. K. Johnson, LTV president, said that "each one of us has a personal stake in the battle for supremacy in defense and in space projects. We should buy bonds for that reason alone. The fact that Savings Bonds also provide us with a reserve fund for use in emergencies or a nest-egg for something we will need in the future is a bonus we get when we purchase bonds. I believe that each of us should join the payroll deduction plan for some amount — according to what we can afford to save from each paycheck."
The LTV Freedom Bond Drive will be a short one. Employees are urged to sign the cards as quickly as possible, so that the campaign can be concluded within a week.

Why Buy

1. Savings Bonds are the safest of investments, paying 3% interest to maturity.
2. If you lose your bonds, orthey are destroyed by fire or other mishap, they are replaced free.
3. You can get your money anytime you want it. Save for a "rainy day."
4. It's the easy way to save. Once you sign a payroll deduction card for bonds, saving becomes automatic.
5. Purchase of bonds helps your country, provides a better future for your family, and helps you.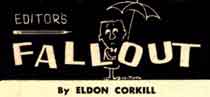 We're constantly intrigued by some of the mail that reaches us — and one letter that was interesting came from the Independence Hall Association. The IHA wants to answer a question: "Can we wave the flag too much?"
For answer, the IHA quotes Dr. S. L. DeLove, radio commentator, who told a listener: "I believe we are not waving our flag enough, not nearly enough. It seems to me that we are developing a tendency to be timid or even apologetic about leaving the Stars and Stripes. Walk up and down the streets on July 4th and count the flags. It is our nation's birthday, a sacred day in world history, the most important day of America. Why isn't the flag flying on every rooftop and from every home and building? This complacent attitude is strong evidence of cancerous patriotic decay. The flag is a symbol of our national unity. It is the spirit of our undying devotion to our country. It stands for the best that's in us . . . for loyalty, character, and faith in democracy."
We agree. Once in a while, we suspect that somebody is waving a flag for his own purposes — such as to get elected, or something. But genuine, patriotic flag-waving has visibly declined.
Dr. DeLove continues: "Let us arrest our near reverential admiration of material success and return to the spiritual and ethical values. Let us imbue and rekindle in ourselves and our children the so-called old-fashioned way of patriotism, a burning devotion to the principles and ideals upon which our country was founded. Should not every home own and proudly display the colors on holidays and other such occasions?"
We're as guilty as anyone of regarding the Fourth of July as a day away from work — primarily for fishing, golfing or traveling — rather than a national holiday. But we do think the man has a point.
An oddity of the above is the location of the Independence Hall Association. It's far from Philadelphia — it's in Chicago.
QUOTE: "Our nation holds in trust the last hope of a free civilization. Our dedication to truth, justice, and individual dignity must not be compromised" — J. Edgar Hoover.


Quarter Century Club
June 15, 1962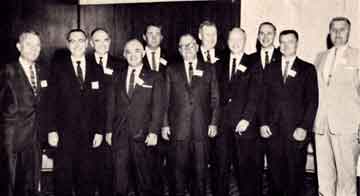 New members of the Chance Vought Quarter Century Club pose with George Franko (left), club president, at the annual award dinner June 2. They are (left to right) J. K. Silverman, E. J. Cosgrove, Joe Diminno, C. H. Phillips, C. E. Anderson, W. H. Haugh, R. C. Adams, Mike Bilchak, C. V. Kinkel, and B. S. Xorkus. Guest speaker at the meeting was Vought President W. Paul Thayer.

Co-operative Education Program
June 15, 1962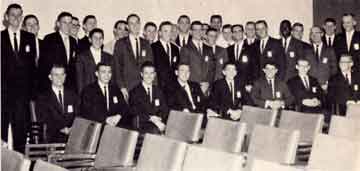 Thirty-two area high school students, selected for the company's co-operative education program, are shown during; a recent orientation visit to the Dallas facility. Also pictured (standing at far right) are ('. H. Connally, assistant to Arlington State's dean of engineering; Till Phillips, co-op program coordinator; and Dr. W. H. Nedderman. Arlington State dean of engineering. Through the program, the students will attend college for six months, then work in the plant for six months, until they earn an engineering or allied science degree. All will attend nearby Arlington State except three going to Georgia Tech and one to Iowa State.

Young Ball Players
September 7, 1962

Junior League Champions — Dallas-Irving Jets

Little League Champions — Oak Cliff Reguluses

LEAGUE WINNERS HONORED
Young Ball Players Feted at Awards Outing

Some 600 persons attended Chance Vought Club's sixth annual Junior and Little League awards outing for parents and players Aug. 25 at Arlington's Triple L Park.
After a period of activities ranging from a father and son tug of war to a three-legged race, trophies were presented to winning teams in the company-sponsored program.
Prior to dinner, the program included introductions by Ralph Smith, club president; a welcome by J. B. Andrasko, industrial relations manager, and the awards presentation by George Franko, commissioner of the leagues.
Certificates also were presented to players on the all-star teams.
Honored as champions of the Junior League were the following members of the Dallas-Irving Jets: Manager J. N. Goodwin, coaches Jim Allen and Ethon Melton, Phil Baugh, Gary Bosworth, Kevin Bos-worth, Michael Brooks, Kelly Hester, Vincent Allen, Dike Hadsell. Bobbe McKee, Larry Hartness. Roy Vaughn, Mike Havins, David Moore, John Williams, David Melton, Tommy Harris, Jerry Michelle and Paul Goodwin.
Trophies also went to the Little League playoff champion Oak Cliff Regulus team. Members of the team were: Manager John Pippin, coaches Al Hattersley and O. E. Jones, John Pippin, Mark Graham. Mike Johnson, Gary Johnson, Owen Smith. Ricky Hall, Warren Hat-tersly, Robsrt Schwitzer, Stephen Meiczkowski, Mark McKinney. Garry Lennon. David Burns. Alan Lacy, Clark Lacy, Tim Pugliese. Michael Bischoff and David Babek.

Runnerup trophies were presented to the American League winners, the Grand Prairie Crusaders. Team members were: Manager Roland Conway, coaches Ernie Starr and Herb Medlin, Ronnie Hunter, Philip Bailey, James Beau-din. Richard Beaudin, Wayne Clark, Dennis Conway, Guy Crawford III. Christopher Bailey, Chip Cramer, Barry Dodson, Robert James, Ronnie Leggett, Tommy Medlin, Sam Starr, Mike Taylor, Bobby Williams and Tim Wortman.

Members of the all-star teams honored were:

Junior League — John Williams, Paul Goodwin, David Melton, Kelly Hester, Vincent Allen, Joe Bacsik, Steve Killebrew. Rickey McCrary, Jim Johnson, Wayne Kidd, John Hubbard. Jim Falkenback, Carl Durham and Bill Bullinger.

Little League (National) — Arthur Tunnell, Michael Pedigo, Alan Lacy, John Pippin. Ricky Hall, Bennie Herd, Stephen Riley, Mike Bearden. Ricky White, Maxie Stone, Pat White. Stan Threlkeld, Les Littlejohn, Ronnie Morris.

Little League (Am3rican) — Douglars Brougham, Jinmiv Field, riobert James. Mike Taylor, Ronnie Hunter, Tim Wortman, Sam Starr, David Hill, Howard Dean, Steven Michelle. Bob Sark, Robert Trotman, Lanny Price and Mazel Merrill.
WHERE DO WE LIVE?

LTV Aerospace Payroll Tops $2 Million Weekly
Ling-Temco-Vought employees in Texas are receiving more than $2,000,000 each week in pay — a total of more than $64,861,828 for the first seven months of this year.

The Texas payrol is at the rate of more than $400,000 every working day.
The largest proportion of the money is received by employees in some 250 communities in 25 North Texas counties. Dallas County alone accounted for $38,021,137 in wages and salaries during the seven months, or in excess of $1,250,000 each week.
Major employee cities include: Dallas, with 5,105 employees receiving approximately $705,994 each week; Fort Worth, 1,496 employees and $125,536; Grand Prairie, 2,309 and $253.509: Garland. 953 and $104,805; Arlington, 2,663 and $346,668; Irving, 866 and $113,784; Mesquite, 290 and $31,579; Greenville, 1,387 employees and $136,422.
Major aerospace work sites listed in the compilation include the Chance Vought facilities in Dallas-Grand Prairie; Temco Electronics Division at Garland and Arlington; LTV Industrial at Garland; Temco Aeros'ystems Division at Greenville and Garland; and Continental Electronics Mfg. Co., with facilities on Buckner Boulevard, Dallas, and also in Garland.
In addition to the aerospace payroll, Friedrich Refrigerators, Inc., of San Antonio, employs approximately 800 persons in nine counties, with a seven-month payroll of more than $2,350,000 — or approximately $78,000 per week. Most of the Friedrich employees live in Bexar County, but some also live in 19 cities in Kendall, Comal, Guadalupe, Wilson, Atascosa, Karnes, DeWitt and Gonzales counties.
In LTV's North Texas aerospace industry, major employee income is centered in plant-site counties, but large sums go into other counties ranging from the Red River southward to Central Texas.
In addition, the LTV payroll includes employees in California, New York and New Jersey facilities, and representatives of the company are scattered throughout the world. Off-site locations include operating units for satellite tracking stations in the Pacific, and groups at major launch facilities on both coasts.
But the bulk of the money LTV receives for aerospace contracts is paid to employees in Texas.
To find out where these employees lived, the public relations department made a survey through the modern equipment used by LTV data processing. Not only did the computers come through with some interesting facts on where people lived, but they also pointed to another fact—that

many employees have their original home town listed as their present address. As we know that LTV employees are not commuting daily from such distant points as Big Spring, Amarillo, San Benito, El Paso and Sweetwater, these home towns and counties were not included in our statistical compilation.
The figures are as accurate as we can make them, based on the home towns listed by the individual employees. They show a wide distribution of aerospace pay roll money over North Central Texas.
A statistical breakdown follows:

To give a good idea of the day-to-day impact of the LTV aerospace employees' payroll, the following list names the 59 cities in North Texas where the most LTV employees live, the number of employees in each city, and the total amount of pay they receive each week:


Alvarado
Arlington
Bedford
Blue Ridge
Bonham
Caddo Mills
Campbell
Carroll ton
Cedar Hill
Celeste
Celina
Clebnrne
Commerce
Cumby
Dallas
Denton
DeSoto
Duncanville
Emory
Ennis
Euless
Farmersville
Fort Worth
Frisco
Garland
Grand Prairie
Grapevine
Greenville
Hurst
Irvine
Josephine
Jaufman
Lancaster
Leonard
Lewisville
Lone Oak
Mansfield
McKinney
Mesquite
Midlothian
Paris
Pilot Point
Piano
Point
Princeton
Quinlan
Red Oak
Richardson
Roanoke
Rockwall
Royse City
Seagoville
Sulphur Springs
Terrell
Waxahachie
Weatherford
Wills Point
Wolfe City
Wylie


CITY
EMPLOYEES


17
2,663
23
18
19
55
41
14
93
56
17
20
86
13
5,105
66
50
112
38
17
138
39
1,496
17
953
2,309
52
1,387
129
866
17
27
59
20
51
20
55
51
290
51
14
13
13
24
12
36
14
106
13
17
18
18
81
40
79
24
20
31
38


TOTAL
WEEKLY
PAY

$1,439
$346,668
$2,721
$1,366
$1,735
$5,321
$4,322
$1,837
$9,858
$5,523
$1,192
$1,442
$7,659
$1,158
$705,994
$6,365
$5,260
$12,266
$3,585
$1,745
$15,351
$3.863
$1Z5,5!I6
$1,858
$104,805
$253,509
$5,609
$136,422
$15,328
$113,784
$1,428
$2,129
$6,300
$1,955
$5,164
$2,096
$5,610
$4.339
$31,579
$5,713
$1,001
$1,341
$1,195
$2,314
$1,258
$3,302
$1,494
$16.623
$1,350
$1,720
$1,221
$2,141
$8,033
$3,641
$8,296
$1,564
$1,358
$2,856
$6,591

---

Secretaries Have Changed
January 5, 1962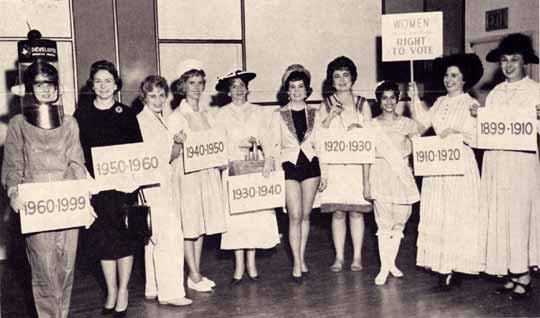 SECRETARIES HAVE CHANGED OVER THE YEARS
As a feature of "Bosses Night" of the Golden Triangle Chapter of the National Secretaries Association, the girls modeled attire of secretaries — past, present and future. Holding signs showing the era their clothes represent are, left to right: Pat Martin, space girl; Betty Keisler, modern working girl; Elza Carter, Rosie the riveter; Wanda Richards, nurse; Edna Beebe; Doris Cox, page for the skit; Lou Langford, the flapper era; Ruth Atencio wearing the Miss America attire for 1920; Dottie Ingram and Christine Herzog. Of the first seven named, all but Betty Keisler are employed at LTV's Dallas plants.

Vought Men Rescue Tots
January 19, 1962
DURING LUNCH PERIOD

Vought Men Rescue Tots From Flame-Filled Auto

Three small children—panicky in a car filled with rising flames and smoke—were carried to safety recently through the fast action of two Vought men out to lunch.
The children, about 3. 4 and 5 years old, were pulled from the car by Herman Vibrock, machine shop superintendent, and J. L. Winsor, sheet metal superintendent.
Returning from lunch. Vibrock and Winsor stopped to browse a few minutes in a Grand Prairie store. As Vibrock backed his car out to leave, Winsor mentioned smelling smoke. They turned to see the children — who minutes before had playfully waved to them — crying and coughing in the smoke-filled car. Jumping quickly from their car, the two men rushed over.

Finding the doors locked, Vibrock managed to unlock them by stretching his arm through a partially opened rear window. While Vibrock carried the children to safety, Winsor batted out the flaming upholstery and paper on the car floor.
After an excited mother ran from the store and attempted to soothe her frightened youngsters, the Vought men drove away.
"In another two minutes, the inside of the car would have been completely aflame," Vibrock said. "Fortunately, the children were not burned. They just took in a little smoke before we got them out."
"I guess it was just a case of being there at the right time." said Winsor.

Junior Achievement
August 17, 1962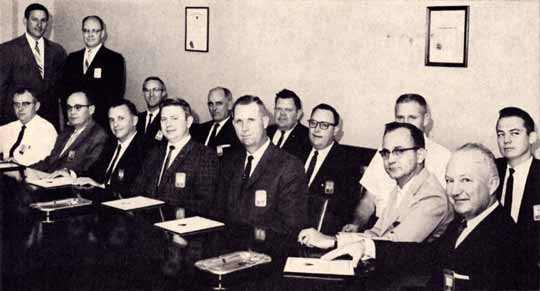 JUNIOR ACHIEVEMENT ADVISERS RECOGNIZED
Thirteen employees who served as advisers in the Dallas area Junior Achievement program recently received citations for their work. The group was congratulated by LTV Vice Chairman of the Board James J. Ling (standing left), who presented the citations, and Walt Dallas, Astro production control and planning manager who has served as president of Dallas Junior Achievement for the past three years. The advisers are (front, left to right) L. E. Christian, J. M. Whetstone, W. 0. Workman, G. E. Love, Ruel Davis, M. Poullos, R. L. Mc-Grew, (rear) Archie Shaver, R. F. Tarver, Ted Truly, Jerry Singer, M. L. Hill, and Don Elliott. Two other Dallas advisers, J. D. Helms and W. F. Cowan, were not present.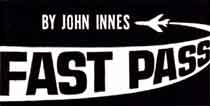 This is a fish story. Imagine, if you will, Ol" Fast Passer in his weekend role as master mariner in command of his 12-foot outboard boat (not to be confused with the presidential yacht).
Then imagine, if you will, him charting and following unerringly a course from lake shore to a buoy about a half-mile out in quiet waters. And then, with this complex problem in navigation solved and boat tied up to buoy, sitting quietly with fishing rod in hand, awaiting some reaction from fathoms below. This is the setting for the gripping narrative to follow.
A. fhort time later, his attention was attracted to a big snake swimming toward another buoy about 150 feet farther out to sea. As he watched, the reptile endeavored to slither up the vertical surface of that buoy but the attempt failed and it plopped back into the water. Then, if you can believe it, the critter headed directly for ol* F. P.'s boat, lying broadside to its course. As it came closer, head out of water and jutted forward, he identified it, from head structure and markings on the thick body, as a water moccasin. As it came still closer, swimming swiftly in winding-S style, he saw wicked eyes and a forked .tongue in good working order.
Grabbing a paddle, ol' F. P. stood up and braced himself and the battle was joined at a distance of about 18 inches. The snake was dealt a sidearm blow, there was a great thrashing of water, and it took off.
One would think that would have been that but it wasn't. Much to ol' F. P.'s surprise, the snake proceeded to traverse a wide circle and then headed right hack toward the boat.
At that point, deponent knew not whether the reptile — six feet long if it was an inch — actually could get aboard but he wasn't about to find out. Grabbing the starter rope, he yanked away at the outboard motor and after seven or eight far from leisurely pulls the danged thing finally started.
Next he had to get up to the bow and the tie rope and he later had evidence—a tremendous bruise on the inner thigh of his right leg — to prove he covered the distance irom the stern in a flying leap, winding up face down.
The knots in the short rope were even more stubborn than the motor but he managed to cut loose when the snake was about five feet distant. And so help him, the determined reptile continued pursuit for a considerable distance toward shore before giving up.-
| Later, anchored at another spot and fishing again, he thought, of course, of a lot of things he might have done but. being without a suitable weapon, he had chosen to retreat honorably. Subsequent investigation at a nearby fishing camp turned up information that snakes can. and do, slither into boats.
Right now. though, he's got to go shopping for what he is convinced is the one indispensable item ior his fishing tackle box: a firearm. He's been thinking about a shotgun but what he'll probably wind up with is an elephant gun. With his luck, he might run into a belligerent swimming elephant some day and there's no sense running the risk of being under-gunned.
DATELINE HONOLULU — Seeking to come up with a succinct summation of New Year's Eve in Honolulu, ol' Fast Passer can hardly hope to improve on a certain teenager's description: "It was a real blast!"
That it was — a fantastic fireworks blast that would have staggered the imagination of even the most uninhibited arranger of spectacles in ancient Rome.
An ear-splitting barrage of sound laid down on the stroke of midnight continued unbroken for 30 minutes before the first letup of the deafening din. And that was only the beginning — new attacks on the eardrums were quickly mounted and continued until the wee, small hours.
The net result was something on the order of thousands of mainland Fourth of Julys rolled into one. The whole show must have cost at least a million dollars, which probably isn't much as money goes these days but it sure buys a lot of noise. As one example of the magnitude of "some of the contributions to this cacophony, a string of 100.000 firecrackers went BOOM to mark the opening of a new seafood emporium.
It was worth a body's life to be on the street and canny ol' F. P. wasn't. From his vantage point on a .fourth-story Waikiki Beach balcony, he saw sidewalk celebrants and observers "bombed" with king-size fireworks hurled from hotel and apartment attack positions. And, so help him, some of the individuals under fire retaliated by aiming sky rockets at the "enemy," much in the manner of missile launchings. At one point, in fact, he was forced to retreat because some of the "missiles" aimed at a nearby balcony "enemy" group were coming too darned close.
The area's main drag, Kala-kaua Avenue, was one big traffic jam, with auto horns blowing incessantly as occupants joined in the "fun" and manv an occupant of a convertible found himself on intimate terms with a descending firecracker of


frightening proportions. The sky above, meanwhile, was filled with the fiery trails of skyrockets and Roman candles.
Ol' F. P.'s observation was limited to the beach area but the same thing was going on all over Honolulu and the island of Oahu and post-celebration police and fire department figures listed 76 persona] injury cases; 68 fires resulting in property losses totaling $63,160; 292 individuals arrested for illegal use of fireworks and 288 others given warnings.
Ol F. P. had never seen or heard anything like the goings-on he observed and chances are he never will again.
Once the returns were in on casualties and property damage, numerous govenment officials leaped nimbly onto the bandwagon of a drive to ban the use of fireworks, except for controlled displays.
Such action might be necessary. Mayor Neal Blaisdell said, because of lack of public cooperation in making the New Year's Eve celebration "safe and sane."
Just might be a good idea in the opinion of ol' F. P., who can't get this newspaper headline out of his head: "Mother Suspected of Lighting Firecracker in Infant's Mouth."
Prior to the big blast, Arthur H. McCormack. president of the Hawaii Humane Society, had recommended that excitable dogs be given sedatives before the celebration began. Veterinarians subsequently reported that pet tran-quilizers were "selling like hot-cakes."
No word yet on sales of tran-quilizers for human beings but the demand must have been phenomenal on the part of those who had welcomed a new year in Honolulu before. Ol' F. P. hadn't. His nerves haven't been the same since.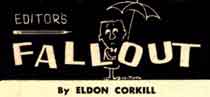 The American Automobile Association tells us that the United States, with only 6.4% of the world's population, has 65.4% of all the world's passenger cars. And it seems like at least two-thirds of them are trying to get into the company parking lot about the same time we are. This has always made us wonder at the total worth of cars driven by LTV employees. Must be about a million dollars worth of cars.
Reminds us of the complaint of the Communist organizer. He said the "downtrodden American masses" were too busy polishing their cars to listen to any organizer in the springtime; too interested in vacations during the summer; too busy with baseball, football and other sports in the fall, and in the winter, they're too intent in staying in their warm homes watching TV sets. "How," he asked, "can I make these slaves of capitalism see how oppressed they are?"
One of those companies making reducing foods and other dietary supplements has come out with an inhaler. It's for fatheads.
Another "scientific" advance may be of interest only to those LTV employees who are bald. Bald persons are advised to get a gallon of green persimmons and press the juice out of them. Apply the juice to the bald spot. Hair doesn't grow —-but the bald spot puckers up so much you don't notice it.
Couple of sports events you may have overlooked: Karl Sweetan Sr., conservation coordinator at the Grand Prairie facility, is all smiles because Karl Jr., as Navarro Junior College quarter, made the All-American team picked by the Wigwam Wisemen of America and is being wooed by many big colleges. And Vice Chairman of the Board James J. Ling, founder of the Dallas Open, recently achieved one of his golfing ambitions — his first hole-in-one. It was a 151-yard hole at Brook Hollow Country Club.


Why Borrow Money
February 1, 1963
For Nearly Every Reason Under the Sun!

By EL DON CORKILL

Why do people want to borrow money?
For every reason under the sun — and some not under the sun.
To put it mildly, many of the reasons given to personnel of LTV credit unions are somewhat unusual.
There was the fellow who needed the money "to pay mother's funeral expenses." The credit union was sympathetic — until a check of past records showed he had already borrowed money twice for that same purpose.
One man was pretty candid about his situation. He wanted to borrow money to send his mother-in-law back to her home.
And then there was the man who borrowed some money to buy one of those long, long cars. He was back at the credit union shortly, asking to borrow money to lengthen his garage. His new car wouldn't go inside.
One employee asked if he could borrow $800 to buy a car which was 10 years old. The credit union committee was somewhat skeptical, but investigation proved the car was an almost unused one "in mint condition" and well worth the money.
Most of the cash loaned by the LTV credit unions, however, goes for a very ordinary purpose — to buy something. Or to pay heavy bills.
But there are almost as many reasons for borrowing as there are people. One man wanted money to send his wife to visit a relative who had broken a toe. Another needed money for alimony. Others have asked for money to buy contact lenses, wedding trips, engagement rings — even a stand or two of honey bees. And one needed money to pay for breeding a herd of heifers, another was buying cows, and stii another needed money to pay traffic fines.

One man was a little cageyabout how he was going to use the money. He finally admitted he was seeking money to furnish an apart­ment for a girl friend.
Another said he wanted to buy his wife a $500 gown and "maybe I'll get myself a tuxedo" so that they would look good at the up­coming dance.
At Greenville, the Temco Aero-systems credit union office said it had been asked to loan money for "about every reason in the world." At Garland, John Gilbert said "just name it, and we've heard it." At the LTV Federal Credit Union office in Grand Prairie, Frank Kucera, W. R. Wood, T. H. Mitchell, T. O. Johnson, and Ray Brittain had similar sentiments. "No names, of course, but we can give a thousand reasons," they said. Actually, they are happy to lend money for almost any justifiable purpose. The LTV Federal Credit Union alone has assets of more than $7,000,000. The credit unions are one of the services offered free to LTV employees — providing an easy pay roll-deduction method of systematic saving- And monev can be borrowed with a minimum of fuss and bother, with low interest rates. During 1962, the LTV Fed­eral Credit Union alone refunded more than $53,500 to borrowers in interest refunds and paid a 4% dividend on money deposited by employees.

Many employees who have plenty of money in the credit union account go ahead and bor­row money anyway, using their shares as security, and pay off the loan through regular payroll deductions.
This "money in pocket" is the best security. But many persons are not fortunate enough to have a reserve of cash, and they offer everything from kitchen appliances to motorcycles to cows as security for a loan. Once, the credit union was about to refuse a loan with cows as security, and mentioned they'd like to have something with a serial number on it — something easily identifiable.
"But these cows are registered — and they have a serial number tatooed on one ear," said the bor­rower. He got the loan.
One ingenious man, however, was not so fortunate. He had nothing to list as security for a $1,500 loan, he said. "But I'll tell you what I'm willing to do. I'll take $400 of that money and deposit it as security for the $1,500."