Fair Park Midway Outing Scenes
Members of LTV employee recreation clubs turned out by the thousands for the State Fair Park Midway family outing Saturday, May 7. The event, postponed from a week earlier because of the heavy rains, drew approximately 20,000 members of LTV families in the North Texas area. Below are scenes as youngsters queued up to get on the free rides, while parents either watched or joined in the fun.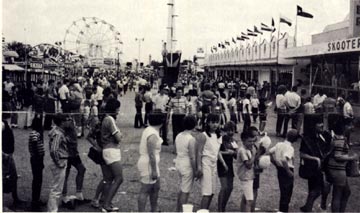 Lines of people were waiting in front of most rides.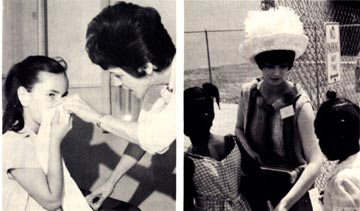 At left, Nurse Jeanne Braden of Garland doctors the nose bleed of Lynette Lidster, whose father works at Grand Prairie. At right, Brenda Wyatt, secretary of the employee club at Grand Prairie, was one of many volunteer workers manning gates or rides.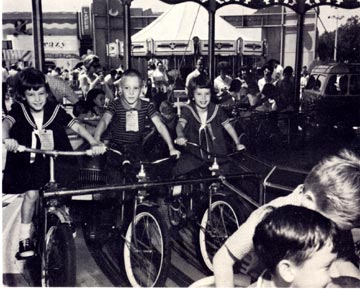 Merry-G0-Rounds were popular with youngsters
Aeronautics Employee Hasn't Missed
A Day of Work in Over I3 Years

The next time you wake up feeling a little below par and are tempted to take a day of sick leave, think of W. A. Kern.
Kern, a missile lathe operator at LTV Vought Aeronautics, has worked at the Grand Prairie plant more than 13 years without missing a single work day. He reached his 13th milestone on Feb. 24 and is still going strong.
Kern's phenomenal health record dates back to the day he entered the first grade at Mt. Vernon, Ill. He went through the school year without missing a day and the teacher awarded him a dictionary. The same perfect attendance won him 35 cents from the teacher at the end of the second year.
Gifts stopped at this point, but Kern kept his record intact throughout grammar and high school, avoiding chicken pox, mumps, measles and other juvenile ailments. He also passed up a trip to the state basketball tournament with his high school teammates.
During World War II, Kern served as a paratrooper and was called up as an infantryman during the Korean War, coming through both unscathed. On his way back from Korea he stopped off in Dallas and applied for a job with the company and went to work a couple days later.


Kern has worked on the night shift through the 13-year stint with the company. "It becomes a sort of 'thing' with me not to miss a work day," Kern commented."I took off three hours the day my wife had a daughter. I also missed few hours the time I had some teeth pulled, but I didn't miss a day. Now it's a matter of pride with me.
"I weighed 128 pounds when I was in high school and I Weigh 132 now. How do I explain being so healthy? Can't. Maybe it runs in the family. My mother back in Illinois hasn't missed being in Sunday School for 23 straight years."
Kern lives at 2010 Rayburn Dr., Arlington, with his wife and two daughters. He plays golf for exercise and shoots a pretty respectable game.


W. A. Kern

Quarter Century Club
June 17, 1966
Quarter Century Club Honors Newer Members

LTV Aerospace Corp. employees who have become members of the Quarter Century Club since 1963 were honored recently at club dinner meetings in Dallas and Detroit.
Some 114 employees, each with 25 to 28 years at LTV Aerospace and predecessor companies: of Ling-Temco-Vought, Inc., were recognized May 16 at a dinner in the Marriott Motor Hotel in Dallas.
Four employees of the parent corporation who also have reached the 25-year plateau during the past three years were among special guests at the Dallas dinner. They were Germaine Bousquet, H. B. Gibbons, J. G. Halza and B. J. Anthony, 25 years.
Principal speaker in Dallas was Paul Thayer, president of LTV Aerospace. He told the Quarter Century members that they are the "hard core of our organization," and that "with the dedication of you people — and others like you — with your research, with your vision, with your application of research to the work in the shop, I have every confidence that LTV Aerospace is on the 'flight path' to greatness in the aerospace field." He also narrated a film which traced the company's development from the VE-7 a two- seater biplane built by the Lewis and Vought Corporation in 1917, to the Astronaut Maneuvering Unit developed for use by the Gemini astronauts.
Other speakers at the meeting included James J. Ling, LTV chair- man of the board and chief executive officer, Clyde Skeen, president, and Robert McCulloch, chairman of the executive committee. J. R. Clark, vice president and general manager of LTV Vought Aeronautics, was master of ceremonies.
Membership in the Aerospace Quarter Century Club has reached 219 (205 active and 14 retired), and these members have a total of 6,309 years experience. Each member receives an inscribed gold watch, a scroll and a letter of congratulation once he attains the 25 year mark.

Quarter Century Club members honored by dinner location were as follows: DALLAS:
D. E. Irons and A. E. Ramette, 28 years:
Al Babina, D. T. Campbell, R. B. Carlson. C. A. Casella, W. S. Davies, R. E. Elliott, P. V. Farina, R. F. Flaherty, Vic Lampert, L. G. Markey, .L. I. Mac- Donald, Andy Milyo, V. A. Peck and D. .L. Scott, 27 years;
J. B. Andrasko, J. A. Bachinskas, V. W. Barber, D. H. Bauer, C. J. Benner, E. V. Bernard, F. P. Bernard, Martin Birdsall, L. N. Blanc, R. P. Brennan, M. J. Brett, J. R. Bruno, E. L. Buckingham, R. C. Burgess, A. D. Carr, H. M. Carr, Pete Chichilla, Roland Christy, J. K. Dojcsak, C. H. Dunlap, N. D. Eagon, H. E. Fisk, C. W. Flick, M. R. Franko, J. D. Gallagher, V. C. Gerletz, G. J. Greeley, George Greytak, J. A. Haladaychik, J. C. Hanes, G. J. Harrigan and J. F. Hayward, 26 yearS. A. G. Hattersley, S. W. Henaghan, H. E. Hendrick, Leonard Hensley, J r., R. C. Hess, R. C. Horne,W. A. Ja1be1·t, R. G. Johnston, H. S.

Kidd, P. J. Kosydar, John Kulbanski, W. S. Magro, H. J. Malone, C. R. Marak, C. B. Mazzola, D. J. McGuire, C. S. Mieczkowski, R. E. Morse, J. K. Mur- ray, P. G. Newcomb, O. I. Niles, Bill Olcs- vary, C. H. Osborne, F. J. O'Sullivan, Carl Pellegrini, Cha1·lie Primavera, O. J. Rog- stad, J. R. Sabbia, G. F. Scharfenberger, C. H. Schwind, C. A. Scott, John Scotta, C. R. M. Sloat, R. W. Smith, S. P. Som- mers,,G. A. Stout, V. J. Supersano, R. J. Tallon, G. J. Tomasko, Ed Valaitis, Frank Wald, J. L. Winsor and John Yanutik, Fred Amato, G. C. Anderson, M. L. Carboni, C. T. Craig, P. H. Crosby, J. P. Drechsler, Fred Gillies, G. E. Henchcliffe, C. V. Jarvis, Jr., D. D. Libone, W. A. Mazur, H. S. Makowski, W. T. McCloskey, H. J. Merbier, George Miner, G. E. Over- ton, J. T. Pulsifer, D. H. Russell, K. E. Russell, E. M. Scott, L. C. Stetson, J. S. Streetly and G. R. Whitenight, 25 years. DETROIT: E. A. Marsh and J. F. Shea, 27 years; D. R. Foster, H. J. Hawley and F. S. Menard, 26 years;
A. F. Barbatelli, J. R. Barron, L. C. Crapo, Jr., L. C. Held and G. B. Pekar, 25 years.


PRINCIPAL 5PEAKER—Pou| Thayer, right, LTV Aerospace Corp. president, addresses the audience ot the annual dinner ol the c0rp0r¤ti0n"s Quarter Century Club. Seated ot the head table adiocent to Thayer, left to right, are William Havrda, leadman in the experimental tool and wood shop ot LTV Vought Aeronautics; James J. Ling, chairman of the board and chief executive alficer of Ling-Temcc»Vought, Inc.; George Franko, Aerospace em- ployee services coordinator, and J. R. Clark, Aeronautics vice president and general manager.
WOMEN ATTEND—Two women who have worked at LTV and its predecessor companies for 25 years or more, Germaine Bousquer, left, corporate control center group leader, and Nan Collins, secretory to Forbes Mann at LTV°s Washington office, were special guests of the annual dinner of the LTV Aero- space Quarter Century Club. Others at the table, clockwise, are .l. H. Ed- wards, Jr., corporate general accountaint; .l. R. Silverman, vice president and Aeronautics controller; R. C. Horne, supervisor of Scout contract administra- tion at LTV Astronautics, and C. H. Fleischer, general foreman of the iig shop ot LTV Vought Aeronautics.

Coveted 'E' Award
August 12, 1966

"E" FLAG FOR EXPORT GROWTH —James J. Ling, right, chairman of the board and chief executive officer of Ling- Temco-Vought, Inc., accepted President Lyndon B. Johnson's "E" Award recently from Judge Roy L. Morgan, second from right, Director of Field Services, Department of Commerce. Holding the "E" Flag with the LTV official and Judge Morgan at the presentation ceremony are, left to right, Harry C. Meyers, Director, Dallas Field Office, Department of Commerce, and Earle Cabell, U.S. Congressman from Dallas. Seated at the head table for the ceremony, in addition to those above, were: Joe Poole, congressman from Dallas; Dr. Willis M. Tate, president of Southern Methodist University; R. W. Carpenter, Mayor Pro Tem of Dallas; Gen. Robert J. Smith, Chairman of the Dallas Chamber of Commerce's World Trade Committee; E. Fred Buehring, president of LTV Electrosystems, and Robert McCulloch, chairman of LTV's executive committee.

Board Chairman Asks Expanded Export Effort
As LTV Gets President's Coveted 'E' Award

James L. Ling, chairman of the board and chief executive officer of Ling-Temco-Vought, Inc., accepted President Lyndon B. Johnson's "E" Award July 21 for the company's growth in export sales and predicted an expanded export effort by LTV in the immediate future.
Judge Roy L. Morgan, Director of Field Service for the U.S. Department of Commerce, presented the big "E" flag and the certificate which accompanied it to the board chairman on behalf of Secretary of Commerce John T. Connor.
The company earned the award by increasing its exports from approximately $1 million in 1961 to nearly $40 million in 1964.
Upon receiving the award in ceremonies at the Dallas Sheraton hotel, Chairman Ling praised those employees directly involved in the exporting and said "We believe LTV will penetrate additional markets in Europe on a larger scale than in the past as well as in the Middle East, South

America, Africa, Canada and Australia."
He said the company has new programs entering the production stage which he expects to improve -LTV's export position "over the next five to ten years."
Among those products mentioned were the A-7A Corsair II, the XC- 142A V/STOL, the Scout launch vehicle, the Lance missile and a number of electronic products such as microphones, amplifiers, public address systems, vibration testing equipment and radio transmitters.
The certificate presented by Judge Morgan read: "Ling-Temco- Vought, Inc., operates in a highly competitive field demanding constant improvement in design and a sustained sales effort. Extensive foreign travel by key personnel, local aircraft demonstrations, and use of trade fairs and trade center exhibits to introduce commercial and domestic electronic equipment have aided LTV to expand export sales significantly. The Corporation's imaginative

and aggressive international market development program reflects credit on management, employees and the American free enterprise system."
The Director of Field Services predicted that once the Viet Nami situation tapers off or comes to any end, the U.S. government is going to need export markets. He thinks it is just a matter of time until the government provides tax benefits and freight discounts as export incentives.
"Any firm that can go ahead and develop them (overseas markets) now will be in the vanguard eventually for a better profit potential and less ups and downs in sales levels," he said.
The "E" flag is on display in the lobby of the LTV Tower, and other flags identical to it are scheduled to be flown in the near future at headquarters of LTV Aerospace in Grand Prairie, LTV Electrosystems in Greenville, Tex., and LTV Ling Altec in Anaheim, Calif. Increasing exports of the three subsidiaries qualified the parent corporation for President John- son's award.

"Black Box" Saves Time
August 12 1966

ZD AWARDS- Rodger F. Ringham, vice president-engineering at LTV Vought Aeronautics, congratulates five members of the support equipment design group after he presented them with Zero Defects certificates. They received the certificates, the first individual ZD awards ever given at Aeronautics, for the design, construction and operation of a prototype "black box" to test the wiring system which controls and releases weapons on the A-7A Corsair II. Standing with Ringham, left to right, are J. L. Byers, R. V. Blood, C. W. Burris, C. L. Miller and R. M. Clinehens.

WIN ZERO DEFECT AWARDS

Give Aeronautics Engineers Honored
After 'Black Box' Saves Much Time

LTV Vought Aeronautics has presented its first individual Zero Defects awards to five engineers who designed, constructed and operated a prototype "black box" for the testing of an electrical function in the A—7A Corsair II.
Recipients of ZD certificates of merit were J. L. Byers, R. V. Blood, C. W. Burris, C. L. Miller and R. M. Clinehens, all of whom are in the support equipment design group. These men decided that methods of checking the highly complex wiring system which controls and releases the A-7A's weapons were too tedious and time—consuming.
What to do, though? How about a single test set that could check the entire system? Fine, they thought. But what if the design for a production model turned out to have bugs that would have to be corrected after production got underway?
The solution, they concluded would be to take a

leaf from the military plan for production of a new airplane model: design, build and test a prototype model first. Once the prototype was built and tested, the engineers' doubts were justified—there were some areas in which improvements could be made for greater efficiency in the production model.
In the process, an even more startling discovery was made. Errors in wiring which would not have been detected until much later under procedures then existing were found and corrected.
Since then, the prototype has demonstrated such a high degree of reliability that it is now being used at the Naval Air Test Station, Patuxent River, Md., serving the A-7A armament test program.
Production units of the "black box"-incorporating changes indicated by the prototype—are nearing completion at Grand Prairie and soon will be in service.

LTV Financial Aid
August 12, 1966
Numerous Salaried Employees Continuing Formal Education with LTV Financial Aid

Salaried employees at LTV are offered everything from graduate s scholarships to financial aid for 2 graduate and undergraduate: courses taken after working hours E as incentive for continuing their formal education.
Under the LTV Graduate Scholarship program, employees at operating units in Texas and Michigan who have been with the company at least a year and hold bachelors' degrees are eligible to l receive scholarships for full-time : study at approved colleges and universities.
These scholarships provide annual expenses of $500 and 100% 1 payment on tuition for courses which lead to degrees related to the employees' jobs.
Half the tuition is paid after the scholarship recipient acquires an advanced degree and works for LTV six months. The remainder is refunded when a year on the job has been completed.
An eight-man scholarship committee meets on or about July 1 each year to consider applications for a 12-month period starting in September. A maximum of ten new scholarships are approved after the committee checks the applicants' past grades and their acceptance papers from the schools they wish to attend. Progress of each scholarship holder is reviewed annually, and the grant may be renewed at the discretion of the committee.
Recently selected for scholarships were: R. J. Belcher, Unit 2- 53310, MS-aeronautical engineering at Ohio State University; R. A. Calico, 2-53310, MS--applied mechanics at the University of Cincinnati; S. A. Evans, 2-55100, PhD- physics at Rice University; B. R. King, 0-71100, MS-mechanical en- gineering at the University of Texas; D. S. Lafuse, 2-51724, MS- mechanical enginereing at Southern Methodist University; M. D. Searcey, 2-53520, PhD-physics at Texas Christian University, and J. T. Watson, 2-53560, PhD-physics at Texas.
Awarded scholarships for the second time were: N. D. Crump, 2-55100, PhD-electrical engineering at Georgia Tech; F. K. McGinnis, 3-52100 PhD-mechanical engineering at SMU;,

R. D. Rathmell, 2- 51112, PhD-physics at the University of Wisconsin, and R. D. Slovikoski, 2-53470, PhD-mechanical engineering at Texas.
Employees of a year or more who have completed six semester hours toward a graduate degree also may continue their studies on a part-time basis under the scholarship program.
In this case, they must work a minimum of 20 hours per week at their jobs (in daily increments of no less than four hours), in addition to attending school. Nine semester hours is the normal minimum which may be taken during any one semester.
Upon enrollment, the employee is obligated to pay full tuition through payroll deductions. However, when the course has been completed, LTV will make a full tuition refund for grades of "B" or higher and a 50% refund for "C"s.
There is another program at most LTV units which allows salaried employees seeking both graduate and undergraduate degrees in fields related to their jobs to receive financial help for courses taken after regular working hours.
As with part-time employees, company reimbursement for after-hours graduate tuition depends upon the grades received, with "B"s and "C"s earning full and half refunds respectively. Graduation fees also are paid when degree requirements have been fulfilled.
Undergraduate courses must be incorporated in a degree plan, and employees must have completed a minimum of 16 semester hours prior to enrollment. Tuition refunds of 50% are made for grades of "C" or higher.
In instances where an employment location precludes participation in normal college classes, financial aid of 50% is often given to employees who take and show satisfactory performance in courses from traditional college or university correspondence schools.

Here Come the Corsairs!
September 16, 1966

A-7 PRODUCTION LINE-The final assembly line of the LTV Vought Aeronautics Division of LTV Aerospace Corporation is filling up with A-7s destined for Navy duty. The first A-7 flew a year ago Sept. 27.

FLIGHT ANNIVERSARY

Red-Letter Day Near in A-7 History

A red-letter day in the short, action-packed history of the A-7A Corsair II comes Sept. 27, the first anniversary of its maiden flight from the runways of the LTV Aerospace Corp. plant in Grand Prairie.
John Konrad, chief of flight operations, took the plane off for a short initial flight, then flew it a second time that day, launching a flight test program that has seen the A-7 amass 898 flights for a total of 1,304 flight hours by Sept. 1.
Since the first flight, A-7s have been rolling off the assembly line, with 13 of the planes already having made one or more flights. The big.milestone in the Corsair II's test program came just this week when LTV started delivery of six planes to the Naval Air Test Center, Patuxent River, Md.; one to Pt. Mugu, Calif., and one to Albuquerque, N. M. for the Navy Board of Inspection and Survey tests.

September also is scheduled to see the first A-7s delivered to VA-174, the "Corsair College" training squadron at Cecil Field, Fla. Pilots from this squadron already have flown the plane at Dallas and will check out fellow instructors in the A-7A when they receive their squadron planes in Florida. Pilots assigned to fleet attack squadrons later will come to Cecil to be indoctrinated in the plane.
Other items on the fall calendar of the A-7A will see first deliveries started to VA-122, the West Coast's training squadron at Lemoore Field, Calif., in October and carrier qualification tests from an aircraft carrier in the Atlantic later in the fall.
In the first year o-f flight testing, a total of 35 company and, Navy pilots have flown the A-7A at Dallas, Patuxent; China Lake and Edwards AFB, Calif., and Albuquerque, N. M.

Two Air Force pilots, Maj. Donald M. Sorlie and Maj. Gen. Gordon Graham of the Tactical Air Command, also flew the Corsair II in Dallas to assess its capabilities.
Probably the most intensive testing on the A-7A has taken place at Patuxent, where LTV test pilots Don Wilson and William Cato flew the plane 195 times as of Sept. 1 through a rugged schedule of bomb drops, rocket and gun firing, catapult launchings and arrestments in a contractor demonstration pro- gram of the A-7A. During the test they dropped a variety of bombs, from 250 to 2000 pounds, aerial mines and fired Sidewinder, Bullipup and Zuni rockets and missiles. NWest Coast testing of the A-7A included flights by Stuart G. Madison at Edwards, John D. Umvigiwat China Lake's Naval Ordnance Test Station, and Cato and Robert E. Rostine at Albuquerque.

Aerospace Makes 1st A-7 Deliveries
September 16, 1966
Aerospace Makes
1st A-7 Deliveries
First deliveries of the new A-7A Corsair II light attack bomber were made to the Navy this week and ferry pilots flew them out, one to the East Coast and one to New Mexico.
W. P. Thayer, president of LTV Aerospace Corporation, builder of the new generation of planes for the Navy, said the initial deliveries met Navy contract schedules and came less than a year after the first A-7A made its maiden flight here.
One of the planes went to Naval Air Test Center, Patuxent River, Md., and the other to Naval Weapons Evaluation Facility, Albuquerque, N. M. Six more Corsair IIs will be delivered to the Navy within the next two months, with all eight being assigned to the Board of Inspection and Survey for evaluation tests on land and at sea.
Tests will be conducted at both Patuxent River and Albuquerque and at the Naval Missile Center, Pt. Mugu, Calif., for the next several months. An initial trial phase 2 of 60 days will see the A-7As undergoing all types of operational tests, including bomb and mine dropping, firing of missiles and rockets and flying from the deck of an aircraft carrier off the Atlantic coast.
Company and military pilots have made more than 900 test flights in the A-7A since the initial flight here Sept. 27, 1965, and the BIS trials are programmed to further evaluate the airplane.
125 Kentron Employees Gather on Kwajalein

The largest group of Kentron Hawaii, Ltd. employees ever assembled on Kwajalein attended a company--sponsored luncheon at the island's Yokwe Yuk Club Aug. 24

G. L. Parsons, Kentron site manager, introduced his supervisors. He made note of the number of Kentron personnel who had re- turned to the island for a second tour and the number of former Kwajalein employees still with LTV.

Richard W. Bullock, communications technical operations supervisor, and Don D. Dill with of photo instrumentation were awarded gold service pins for five years with LTV, Kentron's parent organization. One-year service pins were given to Ed Detchemendy, Neal McLemore, David Jeppesen, Pete Kay, Will Dumont, Alvin

Buettner, Chuck Boughner and Pat Terry.
The meeting, attended by 125 employees (see picture below), was concluded with a motion picture devoted to LTV operations through- out the world. Kentron now employs more than 200 people at the Kwajalein Test Site.

JA Advisors Honored
September 16, 1966
JA Advisors Honored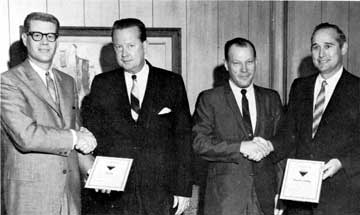 TOWER ADVISORS-Beal Box, left, corporate public relations and advertising manager-aerospace, and Marvin Steakley, right, corporate planning assistant, receive Junior Achievement citations from Clyde Skeen, second from left, president of Ling-Temco -Vought, Inc., and C. J. Benner, second from right, director of corporate administration-aerospace. Box and Steakley were JA advisors during the past school year.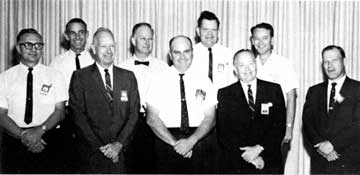 GRAND PRAIRIE ADVISORS—Some of the LTV Aerospace employees at Grand Prairie who worked as Junior Achievement advisors in Dallas County during the last school year, are shown after they received a JA citation from J. R. Clark, front row, second from right, vice president-general man- ager of LTV Vought Aeronautics, and C. J. Benner, front row right, corporate director of administration-aerospace. JA advisors, left to right, front row, are Charlie Fulling, Sid Oliver and Rex Deville. In the back row are James Benton, Herman Estell, Ted Truly and Jack Terry. Other advisors for Dallas County not pictured are Robert B. Eberle, Jerry David, W. C. Gresham and Roger Guile. Aerospace employees who worked in Tarrant County were M. A. Mayfield, C. Hoel, H. L. Arterburn, F. W. Pafford, R. H. Reed, F. F. Aven, T. A. Schneider, E. C. Vogt, J. R. Jamieson, T. N. Maxwell and C. C. Daughetee.

Fair Share Program
October 7, 1966
Fair Share Program
Set to Help Charity

Are you doing your Fair Share?
You'll have to ask yourself that question during the coming week, when you will have the opportunity to increase your charity contribution (it's tax deductible) under the payroll deduction plan.
A "Fair Share" of the load is figured to be about two- thirds of 1% of each employee's salary, or, on an hourly basis, about an hour's pay each month.

The new drive for signing up non-participants and for increasing charity deductions by those already participating includes employees working in Dallas and Tarrant County facilities and contributing to the LTV Employee Charity Fund. Other LTV employee units operating outside those two Texas counties (for example, the LTV Electrosystems Greenville Division) have their own local contribution programs and make their own adjustments to area needs.

More Help needed

The need for increasing the charity contributions made by LTV employees is obvious. The growth of the Dallas-Fort Worth area in population means that there will be more children with cerebral palsy or other crippling diseases, more human need because there are more humans.
In Tarrant and Dallas Counties, the bulk of LTV employee contributions goes to the United Fund campaign. In Dallas County, this includes 65 separate agencies, and combines the Red Cross and other campaigns that were separate in past years.
The United Fund drive in Dallas County has grown like this:
l962—$4,605,127 (including $152,000 in emergency funds added for Hurricane Carla victims.)
1963—$4,499,527
1964—$4,697,852
l965—$5,054,323
1966—$5,575,588
1967 goal—$5,887,048
By contrast, the last Community Chest campaign in Dallas County was in 1961 and was for $2,913,991. Only 38 welfare agencies were included.
Tarrant County, where many LTV employees live, has had a similar growth in welfare needs.

. Groups 65 Agencies

The grouping of some 65 agencies into the Dallas County United I Fund has several advantages, both I human and economic. It reduces the need for so many volunteer solicitors. It eliminates the time that would be required by each person 1 being asked 65 times for donations. ; And, importantly, it reduces administrative expense, leaving a greater percentage of contributions n for direct aid to those with human needs.
For example: Last year, the Dallas Chapter of the National Cystic Fibrosis Research Foundation conducted a separate, door—to-door

campaign. It raised $20,000-but the cost of the campaign was $7,000—leaving $13,000 in usable funds. This year, the foundation is one of the 65 agencies and the United Fund board has allocated $20 ,000—almost all of which can go to help fight the disease.

They Become Taxpayers

In addition to solving more hulman problems with a given number of dollars, there are other advantages. Like Goodwill Industries, the United Cerebral Palsy Association in Dallas County does work for various industries. Payment for the work done by the handicapped reduces the amount of charity money needed. But, most importantly, the handicapped persons learn a trade and often win a job in industry. These people become taxpayers, rather than welfare recipients. They also gain in self respect and confidence and can live independent of charity. The lo-cal chapter figures that in 1965 alone, some $90,000 in welfare burden was removed by this training program.
Of the $217,250 given by the LTV Employee Charity Fund last year, $190,000 went to the United Fund agencies in Dallas and Tarrant Counties. This covers a broad spectrum of need, including such familiar charity organizations as Goodwill Industries, Arthritis Foundation, Pilot Institute for the Deaf, Children's Medical Center, the Salvation Army, the Red Cross, Hope Cottage, and the "Y" and Scout organizations.

Others Need Aid

But there are still other worthy agencies needing money, and their requests were heeded when employee funds would allow. Contributions were made to the Heart Association, Cancer Society and March of Dimes programs in the two counties, and to the Dallas Crippled Children Association, the Dallas Methodist Hospital Building Fund, the Dallas Mental Health Association and the National Multiple Sclerosis Association.
So, in 1965, LTV employees helped many people—crippled, mentally ill, orphans, those with arthritis, and others with real human needs. Other LTV charity money went into research to prevent or zure disease.
Did you do your Fair Share?
Only you know for sure. During the next few days, you'll receive pledge cards and will have an opportunity to sign up or to increase the deductions which help so many unfortunate people in this area.


GREENVILLE BOOSTS UNITED FUND- Employees ot the LTV Electrosystems Greenville facility, both division and corporate, pledged $28,000 to the Greenville United Fund this year. The company added $2,500 to bring the total to $30,500. Left to right at the presentation ore R. R. Chovanetz, representing union employees; Floyd Ridgley, supervisory and salaried employees; Ford Molen of the United Fund; Marty Wright, office and technical employees; Phil Fugitt, United Fund campaign chairman; and J. L. Huffines, United Fund president.
Employee Finds long-lost Family After 29 Years
Can a booklet, filled with the names and addresses of your mother and your seven brothers and sisters, be a tremendous birthday gift?
For Virginia Moore, telephone operator and receptionist at LTV Continental Electronics, the gift was "the greatest." Because Virginia, now 32, had never seen or heard from any member of her family since she was about three years old and lived in South Dakota.
The booklet of names and addresses, accompanied by cards and letters from some of the close relatives, was given to Mrs. Moore just prior to her 32nd birthday late in October. The following day, she was honored with a birthday cake and party by some of her fellow employees.
And it was another employee who provided her with the names and addresses of her long-lost family.


Johnnie Stotts, publications manager at Continental, once heard Virginia tell about her early life and express the wish that she knew where her mother, brothers and sisters were. He decided to try to locate them.
After almost a year of checking and tracing people, chiefly through the U. S. mail, he managed to locate Virginia's mother and the rest of the family. This information he put into a booklet and it made quite a birthday gift. Mrs. Moore is now corresponding with her close kin for the first time in 29 years and is making plans to visit some of them.
Although circumstances behind this 29-year void may seem strange to many now, it is not so unusual to those who remember the 1930's. Times were hard. The family was large. Food was scarce. There was illness in the family.
Virginia's mother worked, and Virginia lived with some friends, starting when she was two years old. Families moved around to find work, and in the moves, Virginia's foster parents wound up in West Virginia, where she grew up and completed high school.
After high school, she married and went to live in Ohio. She and her husband lived also in North Carolina and Florida before coming to Dallas in 1961.
A few years ago, her foster mother died and Virginia learned for the first time that she had, in fact, a real family and several brothers and sisters. However, she knew of no way to locate them without great expense.
But in 1962, she went to work at LTV Continental. There, early this year, she made some chance re marks about having lost touch with her family. These remarks, and detective work by Johnnie Stotts, resulted in the unusual birthday present.


Kids See What Dad Does
November 11, 1966
Kids See What Dad Does

The statement, "That's where Daddy works," took on a new meaning for several thousand children who were among visitors at the LTV Vought Aeronautics open house Oct. 15-16.
The division's mammoth facility which many of the youngsters had viewed only from an automobile travelling along Jefferson Boulevard became more than a "big ole building" to them.
What they saw, along with their a parents, friends, relatives, neighbors and other members of the general public, included an aircraft being used in Vietnam, the


Crusader; an aircraft destined for the South- east Asian War, the A-7A Corsair II; and another which as one child put it, "can take off and land like a helicopter," the XC-142A V/STOL.
Milling machines and turret, lathes were in operation and the visitor observed them and tools and test and electronic equipment used in producing LTV aircraft.
The A-7 production line seemed particularly impressive to all but one, a youngster who was overheard to say while viewing the A-7s in various stages of assembly, "But Daddy, they're all broken!"





FIRST AT OPEN HOUSE—First family to arrive at the gates of the Grand Prairie plant for Aeronautics'' open house was that of J. L. Paddock, quality control inspector. Paddock is shown with his wife, Patricia, daughter, Teresa, and son, Mike.




BETTER VIEW—This youngster found the view of the XC-l42A V/STOL model more to his liking from atop pop's shoulders.


BLUE ANGELS—Open house visitors at Aeronautics watch the Blue Angels flight demonstration team which performed as part of the adjacent Dallas Naval Air Station's 50th anniversary ceremonies.




PRODUCTION LINE—This was the scene during open house at Aeronautics as hundreds viewed the final assembly line of the A-7A Corsair II, the Navy's newest aircraft.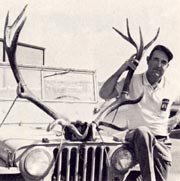 I4-POINTER—If you saw a jeep going down the road looking like a prize elk, it was probably driven by Chester Wood of Garland's sheet metal department. He bagged the l4-point trophy while on a hunting trip in Colorado. The elk's weight was estimated at 1000 pound.