System Requirements and LTV's Proposed Solution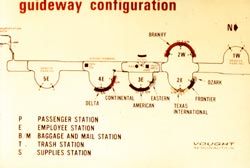 The airport design consisted of four half-circle terminals with remote parking both on the north.and on the south, a hotel, a transportation maintenance complex, postal facility and supply facilities.
System operating requirements were as follows:
20-minute trip time for interline passenger transfers
30-minute trip time for passenger travel to remote lots
30-minute interline baggage transfer
30 minutes to restore a downed system to operation
500-hr. mean time before failure of vehicle
One-year warranty on all components
30-year design life (20 years on vehicle)
Expandable to meet future needs
The number of passengers and employees to be moved, and the quantities of mail, trash, supplies, and baggage to be moved were detailed in the specifications for the airport and became a part of the contract obligation, with severe penalties for failure to meet them.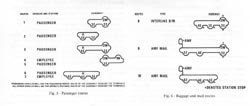 LTV employees John Loutrel and Ruth Huffman developed an extensive computer simulation. The simulation was very advanced for that time and was a factor in winning the program and enabling it to meet the specifications with minimum cost. Without using all of the available right-of-way, a series of overlapping routes was developed to meet the requirements by building the guideway shown . These routes are shown in the Individual Scheduled AIRTRANS Routes illustration. This Routes illustration does not show the trash and supply routes, which provided on-demand service.
AIRTRANS vehicles travel over these dedicated routes using the common guideway and switching automatically as required to maintain the route unless commanded to change by Central Control.
Airtrans:
Program Background
System Requirements and LTVís Proposed Solution
Guideway
Switch and Switch Machine
Power Distribution
Vehicles
Controls
Stations
Maintenance
Airtrans Today