MARY GARNETT ANDERSON - CARLSEN
DESIGN AND DRAWING AREA
BY: Her Daughter
PATRICIA CARLSEN MIKKELSEN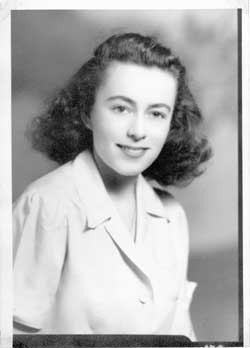 Mary Garnett Anderson was born on Staten Island, NY. She was the third of four daughters born to Mary (born Mary Cooper Smith in Washington, DC) and Adolf Anderson (born Bergen, Norway). There was no lack of professional women in the family. Her oldest sister, Catherine, was planning a career as a physicist when she died unexpectedly of complications from thyroid surgery at the age of 21. Her other sisters, Thelma and Virginia Augusta, had long and successful careers as a nurse and a doctor, respectively.

Garnett graduated from Curtis High School (Staten Island, NY) in June 1939 at the age of 16. She attended Hunter College, earning degrees in physical education and mathematics. It was during her college years while riding on the ferry into Manhattan, that she met her future husband, Carl Carlsen. He was working for George A. Fuller Co. General Contractor, (first as a clerk and later as head accountant). Fuller built the Flatiron Building and the Washington National Cathedral, among others.

Garnett and a friend (1) took the test for the Vought program during their senior year of college, and entered the NYU engineering program shortly after graduation, in June 1943. In February 1944, she completed the program at New York University College of Engineering, as a part of the "Second Group" of Chance Vought Scholars. She worked in the design and drawing area. For a time, she shared an apartment with Dorothy Davis Rudick (3).


Garnett is seated at the table.

In August 1944, Garnett & Carl were married. Carl was a Sergeant in the Army Air Force at the time, stationed in Goldsboro, North Carolina. She continued to work for Chance Vought until Carl left the service, at the end of the war (2). They lived on Staten Island until 1950, when Carl was offered a promotion that necessitated a relocation to the Washington DC metropolitan area. The young family settled in Falls Church, Virginia, where they lived for 16 years. In 1966, the family moved to Springfield, Virginia.

Carl and Garnett had three children. When the youngest child reached school age, Garnett went back to work teaching mathematics at Falls Church High School. She worked for over 25 years in the Fairfax County School System. She was well-loved by her students and well-respected by her peers. In the 1980s, she and Carl bought a plot of land and built a house on Lake Anna in Spotsylvania county, Virginia. They loved it there and visited as often as possible. She was happiest when she was doing something outdoors. She and Carl played tennis and fished. She worked in the garden, played golf, and swam. She also tutored students in math until she was well into her 70s. Carl died of cancer in 1989. Garnett passed away in 2005 of complications from a broken hip.

Notes:

1) According to Mom's writings, she took the test with a friend, whom she doesn't name. I recently spoke to one of Mom's long-time friends, Ruth Aagnas. She admitted her memory was not good, but did say that she took the test with Mom, and also worked for Chance Vought. However, I don't see her name in the graduation program, so I am hesitant to use this information

2) According to Mom's writings, she worked for Chance Vought "until Carl got out of the army".

3) According to my phone conversation with Dorothy, 31 March 2010, Dorothy said they shared an apartment with one other girl, and that Mom moved out when she got married.