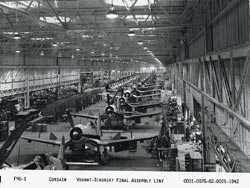 Vought's own production began slowly, partially due to the number of changes implemented before the program began: the cockpit was moved 3 feet aft to accommodate more fuel and the engine bay was redesigned to accommodate the up-dated R-2800-8 engine, providing 2,000 horsepower on take-off. The first production Corsair was flown June 25, 1942. The Navy accepted its first two production Corsairs in July 1942, with nine following in August. During 1943 the production rate saw a steady increase, exceeding 200 units by November 1943. The total monthly Corsair production rate peaked in May 1944 when the Navy accepted 254 F4U's (Vought), 220 FG's (Goodyear) and 122 F3A's (Brewster), for a total of 596 aircraft.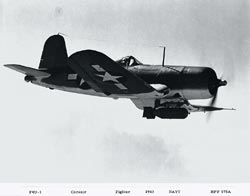 A very noticeable change was introduced in November 1942 when the fifth production aircraft was modified to raise the pilots' seat. This development brought about the frameless, clear-vision, "Bubble" canopy. This change became standard in all F4U's. Other design changes included a new, improved landing gear oleo, a new tail-hook installation to prevent "skipping" on carrier landings, and a modified/redesigned tail hook.
In all, seven major changes were made to the F4U over a span of a year and a half. Each change necessitated considerable research, engineering and testing. One noticeable change was the addition of a small spoiler on the edge of the starboard wing to reduce the accelerated stalls and ensure stall warnings. The clipped wing version for use on the British carriers was designated the F4U-1A.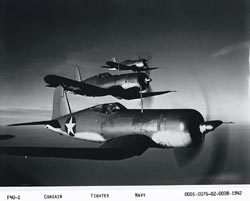 By the end of 1944, Chance Vought was turning out 300 Corsairs a month, or one complete airplane every 82 minutes. Vought built 2,814 of the F4U-1's.
Brewester Akircraft Production
Brewster didn't build many airplanes, its Corsairs, designated as F3A-1, were duplicates of the F4U-1 series. Delivery lasted from June 1943 to July 1944 when the contract was canceled. Only 735 Brewster-built Corsairs were delivered.
Goodyear Aircraft Production
Goodyear's version was designated FG-1. In 1943, Goodyear delivered 377 FG-1's. In 1944, Goodyear boosted the production rate six-fold to 2,108 aircraft. Another 1,521 FG-1's were accepted in the 8 months of hostilities during 1945 for a wartime total of 4,006 aircraft. This amounted to over one-third of all Corsairs produced during World War II. Many of these FG-1's were built with non-folding wings during the period before Corsairs were put aboard carriers, and these aircraft went to land-based Marine squadrons.
Other Versions Of The F4U-1 Produced During The War Years.
The other versions produced during WWII were as follows:
F4U-1C. This version was equipped with four 20-mm M2 cannons and flash hiders to hide muzzle blast visibility. 200 were built. (1944)
F4U-1D. Equipped with the standard number of six 50-caliber machine guns, this version had twin pylons for bombs and external fuel tanks. 1,685 were built.(1944)
XF4U-1WM. Also known as the XF4U-1M, it was one F4U-1 converted by Vought to mount and test a P&W Wasp Major R-4360 engine with 3000 HP. It was successfully flown on Sept 12, 1943. This lead to the Navy having Goodyear generate designs that lead to the aircraft designated the F2G. The F2G was principally being developed as a high speed low altitude fighter to offset the growing Kamaikazi menace in the pacific. The initial order was for 418 aircraft. Before the end of the war eight XF2G-1s, five F2G-1s and five F2G-2s were delivered but none saw action.All FG aircraft had fixed wings except the F2G-2s. Five of the F2G-2 fighters, described as the most powerful single engine propeller driven fighter ever built, were declared surplus by the Navy in 1946. Three were purchased by Cook Cleland. Vought overhauled one of them for him. It went on to win the Thompson Trophy Race in 1947 and 1949. The other Corsairs were purchased and appeared around the country, highly modified, to participate in various high powered racing events.
.More F4U:
Operation Summary WWII
WWII Record
WWII Corsair Aces
Production
Lindbergh, Clark and a 4000lb Bomb Load
Operation Summary Post WWII