BY
CLAIRE GENOR (CLAIRE LITTON)
TECHNICAL PUBLICATIONS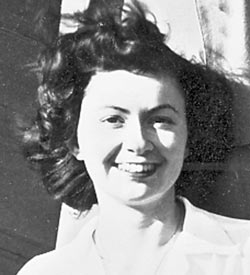 There was a group of ladies (in my case, no college) who passed a test and were accepted for a 4 month course at The Academy of Aeronautics located at LaGuardia Airport, to become Engineer's Aids. The curriculum included basic aeronautics ( the conditions to be met for an aircraft to fly), drafting and preliminary engineering studies.
After my successful completion of the course they asked for volunteers to stay another month to learn isometric drawing. I accepted and after completing this course I was offered a job, at Vought, in Technical Publications. I knew what my starting pay would be if I satisfactorily completed the school.
I married Gail Thomas Litton in October 1947. We met in a boarding home where we were both living. Gail was already working at Chance Vought as a structures engineer.
I stayed with Vought until I was pregnant with our first child (born 2/19/50).
(To view the documents submitted with the story select here)