Saga of
Betty Ann Love nee Elizabeth Anne Esch
Chance Vought Aircraft 1943 –1947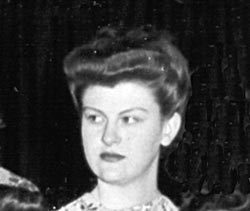 It was 1943-I had intended to go to Purdue but my dad (an engineer) wasn't sold on women engineers, I had a scholarship to Illinois Wesleyan and thus I was in my third year majoring in math and science. The Dean of Women called me into her office one day and told me of the Fellowships being offered by Chance Vought Aircraft which envisioned six months of total immersion at NYU Guggenheim School of Aeronautics with a following job as an engineering aide at Chance Vought.
I jumped at the opportunity, applied and was accepted. Mom and Dad had to take their little girl to the Big Apple to settle her in. Select here to read newspaper article.
The group I was with moved into Campana House on Riverdale Drive. It was the previous home of the Duke of Campana, Italian Ambassador to the US - just a small place with a bowling alley and all the other amenities including a housemother.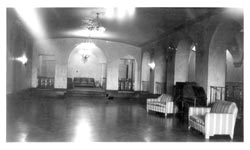 I was among a great bunch of gals all excited and eager to participate in this effort with Chance Vought. After six months of rigorous schooling with some little time to see New York graduation time came. We moved to Connecticut into barracks near Vought. It was wartime-no new buildings.
Needless to say, after our first paycheck, some of us got together, found a house to rent and moved in. The bunch I was with (Nancy Bartram, Barbara Coburn, Peggie Birch, Mary Jane Copenhaver, Gretchen Eichorn and her mother (house mother?) and of course me BA Esch. We found a place about two blocks off the beach (Long Island Sound) in Fairfield. Peggie had a car (convertible with a holey top-couldn't get a replacement) so she drove. We gave our gas ration stamps to her, shared all costs and used umbrellas when it rained or snowed. This was all fun and cooperative living.
My initial job was working with Dr. Newman Hall, mathematician, in Power Plant Analysis. Don Jordan was Chief of PP Analysis. My math background worked out well with Dr. Hall even with my eighteen-inch slide rule. One of my tasks involved working on the power plant analysis of Vought' first jet-F6U. Our analysis proved to be good from flight test results, although the thrust was marginal and it was not one of Voughts better aircraft.
I then moved into Aero (Bill Schoolfield-Chief) working with a German translator reviewing German technical data captured during the war.
The next project was involved with determining approach path and speeds required to pick-up the second or third arresting wires on the carrier. What an education!
One of the research projects that Fred Randall was involved with was catching flies, gluing them to small cards, and flipping them over the wall into structures to evaluate flight time before capture.
Thanksgiving was a special time for a while. Jake Benner and company in the Lab had an oven task to evaluate time/temperature requirements to roast turkeys. It took about two years to accumulate the necessary data, as I recall.
We had long hours, worked hard, felt strongly that we were part of the great Vought Team and had fun along the way in the midst of a long traumatic war.
Along the way, I met a fresh young lad by the name of Sol Love. He had established a habit of playing Bridge during lunch with some of the Lab folks down in the test Lab area. I found out later that one time when I was walking through the Lab with some of my roommates he looked up from his Bridge hand and said, "Who is that Lassie?" About one year later (October 1945) we were married--After VJ Day. I officially left Vought in 1947 to start our family. With Sol's involvement in the F-8 and the A-7 (our fifth child), Vought and the great cadre of people were a continuing part of our life till his retirement.
Some fifty –nine years later we are still blessed to be together Four Children, Eight Adult Grand –Children, Four Great Grand Children and one Beagle.
I was born in Decatur, Illinois on 14 January 1923 and never did get back to finish my degree work—something always had a higher priority (no regrets)
I am like the batteries (in the ads)-still going albeit somewhat slower with great memories of times past, of those who have left us for a while and of those who are still here.
Select here to view the biography of Sol Love.