BY
LOUISE KAY RANDALL
VOUGHT FLIGHT TEST OPERATIONS-EXPERIMENTAL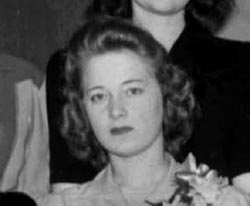 My birth place was Hoboken New Jersey. I was in a group of four senior students attending Rutgers College for women, (Rutgers University) that were selected by Chance Vought and sent to New York University for training as Engineers. We lived in the Italian Villa and were assigned to rooms equipped with bunk beds. We rode the bus to class along with a handful of our professors.
The area was very familiar to me as I was born and raised just across the Hudson River. I enjoyed getting to know the girls from the other schools. With fraternities nearby and the Navy Cadets at Columbia we had quite a social life, but still managed passing grades.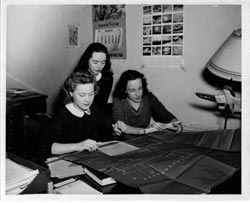 After graduation I was assigned to Flight Test Operations where I analyzed and wrote up flight test results for experimental aircraft. Along the way I met and married Fred Randall, who was working in Vought Aerodynamics at the time. Fred progressed in the company to become Vice President of Subcontracts.
Louise is seated farthest from the F4U model
EDITORS NOTE
Louise passed away in January of 2004 without completing her story. Her husband, Fred, found the scrap book that Louise had kept that covered the events that lead to her to and through the Chance Vought Engineering Scholarship program for Women Engineers.
The scrap book provided a wealth of information including news paper articles that were released describing the Vought program, Vought letters to the applicants, and photographs.
Much of this information was used in the preparation of the introduction of this Lady Engineers at Vought Story.
The items within the following file were copied directly from the scrap book and pertain specifically to Louise. Select here to view these documents.