BY
DOROTHY (TINY) DAVIS RUDICK
CHANCE VOUGHT TECHNICIAN, TEST LABORATORY
1943 was not a good year for America. The war was raging in Europe and in the Pacific. The Army needed recruits to train and send overseas. There were still vestiges of the Depression and rationing was in full swing. I was finishing my college career and, like most graduates, needed a job.
I saw a notice from a recruiter that tests were being given at several Northeast women's colleges to find seniors with mechanical and engineering aptitudes. History and liberal arts majors were encouraged to apply as well as math or science students. Vought Aircraft of Connecticut was sponsoring the test because they were badly in need of replacements for the male members of their engineering department who had been drafted. They were proposing to train recent women graduates to take these jobs by offering a year's concentrated schooling, room and board, a monthly allowance, plus a job offer when the course was successfully completed. An offer I could not refuse!
I took the test and was selected along with 49 others to begin 9 months of course work at New York University in New York City. We were housed in a large, comfortable home owned by the Ditmar family which was across the street from a lavish Italianate villa-like estate, Compana House, in Riverdale, New York, where another class was living. We shared their dining and living rooms which were elegantly appointed with crystal chandeliers and statuary. The dining room could seat as many as 100; the living room walls were covered in red satin. We also enjoyed the swimming pool. Each of the original bedrooms had been outfitted with three or four additional beds like a dormitory where we slept and studied, but I shared a small room downstairs with bunk beds which once had been the maid's quarters.
Each day after breakfast in the dining hall a bus came to transport us to the Guggenheim School of Aeronautics, a part of NY University located north of Manhattan. There we took classes in typical engineering subjects, such as aerodynamics, mechanical drawing, calculus, structures and strength of materials. We were separated from the male students, but had the same instructors and classwork. Our lunches were prepared at the Compana House and brought on the bus each day.
After nine months of studies the group of women was moved to the Vought facility in Stratford, Connecticut, for two weeks of production observation. We were assigned to various work units to watch production tasks such as assembly and welding and to practice riveting so we would know how airplanes were manufactured. Next came interviews with company Group Leaders to make the best match between our interests and skills and their staffing needs. All 50 of us were placed in positions in the engineering department. At that time the corporate focus was on producing the gull-winged Corsair F4U fighter plane. Some women went to design and drawing, others to structures or the test lab. We performed technical jobs such as testing strengths of metals or calculating the aerodynamics of proposed design changes.
In Stratford during our on-the-job training, Vought housed us in barracks buildings that were pretty basic. After Vought officially employed us we were on our own for housing and transportation. As no new housing had been built in many years due to the Depression and then War slowdowns, the choices were few and poor. Two of my classmates and I rented a one bedroom attic apartment in nearby Bridgeport, CT, for $30 a week. It had one room with a double bed, a living room with a daybed, a kitchenette and bathroom. To get to our apartment we had to walk through the owner's place to the stairs leading up. The days of the grand estate in Riverdale were over.
We made about $150 a month in base pay plus lots of overtime, often working six days a week and sometimes seven, so we had plenty of money. But because of rationing and supply shortages, there were few ways to spend it. Shoes and food were rationed and stockings were essentially unavailable. Although we wore overalls for our two weeks of training, we had to wear skirts for our regular employment. With no stockings available, leg makeup became the height of fashion. With no car or gas rations we joined carpools to get to work. The plant was right on the Connecticut shore and there was talk of German U-boats in the area. All of us knew that the plant would be a prime target since we were producing so many fighter aircraft a week.
When we arrived at the plant we were the only women there except the secretaries. The engineering department was organized into groups of ten men headed by a group leader. We were integrated into these groups and functioned as regular employees alongside the men. In some cases, the women made a slightly higher base pay to begin, but the men got advances more quickly. In my unit, however, when the group leader was away or on vacation, I filled in.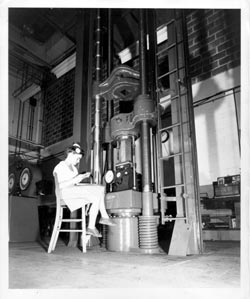 I took a position in the Materials section testing metal strengths. The results of these tests were used to help determine which metals and metal thicknesses to be used in the design and construction of the airplanes.
I met my future husband Milt at the plant when he was working in an adjacent Materials office. Like many others he was drafted into the Army and, after induction, was sent on to Camp Blanding in Florida for basic training. We were married in August, 1945, just before he went to Italy to serve as part of the occupation forces. When he returned after his tour of duty we both went back to work in the engineering department. I stayed until 1947. Milt remained at Vought until he retired in 1977.
Editors Note
Dorothy Davis was born in Newton, Massachusetts, in 1921. She was attending Wheaton College in Norton Massachusetts, with a major in chemistry in 1943, when she was accepted by The Chance Vought Company to enroll in their special training program for Lady Engineers. Dororthy's husband, Milt, advanced through the company to become Vice President of Engineering, LTV Aerospace corporation, Missiles and Space Division.
Select here to view the biography of Milton J. Rudick.