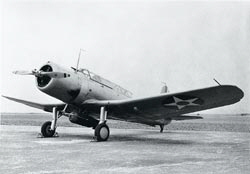 On March 1, 1942, two Vindicator squadrons, VB-9 and VB-8 were commissioned at NAS Norfolk, Virginia as part of Carrier Air Group 9 (along with VF-9 and VT-9). The newly organized air group was scheduled to go aboard the USS Essex (CV-9) after the ship was commissioned in late December of 1942.
Both VS-9 and VB-9 received their first Vindicators during February of 1942, and by yearís end, VS-9 had 12 SB2Uís, while VB-9 had 16 aircraft. During January 1943 both squadrons went aboard Essex and began work-up training operations. The SB2Uís were in service aboard Essex for only a short period and by the end of February, VB-9 had departed Essex, prior to the shipís transit to the Pacific.
When VMSB-131 transitioned from the SB2U-3 to the TBF-1, the squadron turned over its Vindicators to VMSB-142 at Camp Kearny (San Diego) during September of 1942. By the end of that month, some of these aircraft were transferred once again, with nine going to VMSB-143 and seven being delivered to VMSB. At the end of 1942, both squadrons were re-equipped with other types and transferred to the Pacific for combat operations.
The remaining SB2Uís in the inventory were sent to various training units throughout the United States, ending their careers in the advanced training role. The longest record of operational service belongs to an SB2U-2 (BuNo 1330) which was retired on November 30, 1943
More SB2U:
Atlantic Operations
Combat at Midway
Phase Out