The Navy STRAAD program reduced the repair cycle time of damaged aircraft aboard aircraft carriers by more than 50 % during the Vietnam War. LTV Aerospace was instrumental in helping the Navy plan and initiate this program and supported it throughout the war.
Introduction and Background
The scope of the war in Vietnam increased dramatically in 1965. The Navy sent additional aircraft carriers to support the effort. As the bombing of North Vietnam increased, many aircraft were returning to the carriers with significant battle damage. Squadron maintenance personnel on the carriers could perform only cosmetic and limited structural repair. Cubi Point Naval Air Station at Subic Bay in the Philippines, the US Navy support center for the war in Vietnam, was equipped to do only limited repair. Most significantly, the Navy had no aircraft structural engineers in Southeast Asia who could assess structural damage and direct safe repairs. The direct result of this lack of capability was an accumulation of damaged aircraft ("hanger queens") cluttering the hanger decks of the carriers operating off Vietnam. The carrier squadrons were losing operational capability because of these damaged aircraft and the situation was becoming quite serious.
The Navy recognized this problem and asked the Structures Branch at the Naval Air Systems Command (NavAir) in Washington to look into possible solutions. LTV had originally suggested to NavAir that contractor engineers be used to help them process damaged airplanes. NavAir liked the idea but decided to approach Douglas Aircraft first since they had the most airplanes in service at that time. Initially Douglas showed little interest so NavAir contacted LTV. The details of how LTV responded and helped plan the Navy aircraft damage repair program are described by Ed Grube in his personal experience story, pages 5 to 8. By the second year of operation McDonnell Douglas had agreed to supply engineers from its St. Louis and Long Beach facilities.
This new Navy repair program was called "STRAAD", the acronym for "Specialized Techniques for the Repair and Analysis of Aircraft Damage". The basic purpose of STRAAD was to provide a maximum number of operational aircraft onboard carriers by reducing the repair cycle time of all aircraft damaged in the Seventh Fleet. To achieve this purpose STRAAD was given the authority to recommend one-time ferry flights for aircraft damaged beyond limits for safe flight. The purpose of the one-time ferry flight was to eliminate time-consuming surface transportation, possibility of in-transit damage, and give carriers vitally needed deck space. The STRAAD program goal was to provide types of repair that were structurally sound but could be fabricated and installed quickly in a combat environment.
STRAAD provided the fleet with specially briefed structural engineers that offered responsible judgement and assistance in evaluating individual problems related to aircraft crash/battle damage. STRAAD made decisions as to the disposition of damaged aircraft that minimized the repair cycle time of individual aircraft. The STRAAD team covered all aircraft carriers operating in WESTPAC as well as all Navy air units operating on shore in Vietnam.
Organization and Facilities
The STRAAD team was headed by a Navy Commander. His staff consisted of three Navy officers and several Civil Service personnel. This staff performed administrative duties and managed the repair team workers. STRAAD engineers reported to the STRAAD Commander.
The repair team consisted of aircraft metalsmiths, machinists, mechanics, electricians, and avionics technicians. These workers were very experienced, skilled people from Jacksonville, Alameda, and North Island NAS aircraft overhaul and maintenance facilities. Most were there on six month tours of duty; some returned for second or third tours.
The STRAAD engineer's job was to provide technical expertise for the rapid structural repair of damaged Navy and Marine aircraft. This job was mainly performed at Subic Bay NAS and onboard aircraft carriers at "Yankee Station" off the coast of North Vietnam. Occasional trips were made to Da Nang, South Vietnam to support Marine aircraft there. On a few occasions, engineers flew to Okinawa to provide repair support. The standard tour for STRAAD engineers was six months, although some stayed twelve to eighteen months.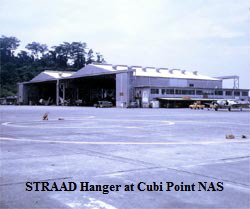 Starting about 1966 the STRAAD organization had it's own facility in a hanger on the Cubi Point flight line. This facility included a machine shop, electrical shop, office space, and aircraft hanger space.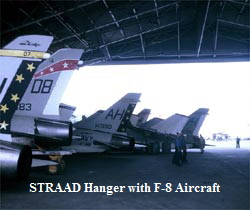 Cubi Point NAS and the adjacent Subic Bay Ship Repair Facility were located on Subic Bay on the island of Luzon in the Philippines. Subic Bay lies about 100 miles Northwest of Manila and Manila Bay. Subic Bay is surrounded by mountains and jungle. The bay is very deep and is ideal for harboring large ships such as aircraft carriers. Cubi Point NAS had an 8,000 foot runway adjacent to the aircraft carrier pier. The largest aircraft carriers could park at the pier with no assistance needed from tug boats.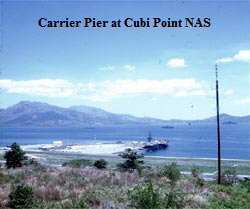 US Navy presence on Subic Bay dates back to the early 1900s. In the mid 1990s the US lease with the Philippines expired and the Navy completely abandoned both bases (The US Airforce abandoned Clark AFB on Luzon at the same time).
Operation
Each aircraft carrier has a CAG (Carrier Air Group) maintenance officer and each squadron onboard has a maintenance officer and several maintenance and repair technicians. They repair and maintain engines, hydraulics, avionics, and other systems. Generally, they perform only cosmetic or minor structural repair. More extensive structural repairs are not done onboard carriers because equipment, hanger space, and time are not available. There are exceptions. Some squadron maintenance officers will conduct more extensive structural repairs onboard, but this is fairly rare. Aircraft carriers in the Gulf of Tonkin returned to Cubi Point NAS every ten to fourteen days and damaged aircraft were off-loaded for repair by STRAAD.
Aircraft with small to moderate structural damage were repaired by STRAAD and those with major damage were shipped to Navy repair facilities in the US or in Japan. The general rule was that STRAAD would not repair aircraft requiring more than 400 labor hours. Damage requiring wing skin or fuselage bulkhead replacement was not attempted at STRAAD, since major tooling fixtures are needed for those repairs.
STRAAD also provided structural repair support to Marine air units flying out of Da Nang and Chu Lai, South Vietnam. STRAAD repair personnel lived in a Marine barrack at the large American air base at Da Nang. The Marines had F-8s and F-4s at Da Nang and A-6s at Chu Lai. There was also a Marine helicopter base near Da Nang at Marble Mountain. STRAAD engineers traveled to these sites as required to inspect and supervise repair of damaged aircraft and helicopters.
Engineer Indoctrination and Work Assignment
STRAAD Engineers began their assignment with an intense, month-long indoctrination to prepare them for the job at Subic Bay. This Indoctrination included factory tours, descriptions of the structure of each Navy carrier aircraft, typical maintenance and repair problem areas for each aircraft, and structural repair capabilities of the various Naval Aircraft Rework Facilities. The pre-trip indoctrination also included descriptions of aircraft carrier operations, particularly catapult takeoffs and landings.
Briefings for LTV structural engineers started with a week of F-8 Crusader briefings. This was followed by one month of the following briefings and factory tours:
Grumman Aircraft in Long Island, New York (E-1B, C-1, E-2, and A-6)
Sikorsky Helicopter in Stratford, Connecticut (CH-53)
North American Aircraft in Columbus, Ohio (RA-5C)
McDonnell Aircraft in St. Louis, Missouri (F-4)
Douglas Aircraft in Long Beach, California (A-1, A-4)
North Island NAS aircraft rework facility, San Diego
Alameda NAS aircraft rework facility on San Francisco Bay.
Atsugi NAS aircraft rework facility, near Tokyo, Japan
At the start of the STRAAD program, Ed Grube from LTV was the only engineer assigned. As the war effort and number of damaged aircraft increased additional engineers were added from the other Navy aircraft contractors. By 1967, there were STRAAD engineers from McDonnell Douglas, St. Louis, McDonnell Douglas, Long Beach, and North American Aviation working at Cubi Point.
Although engineers were from a specific aircraft company, they could be assigned to work on any Navy aircraft or helicopter. Where possible, the STRAAD Commander assigned LTV engineers to F-8s, McDonnell engineers to F-4s and so forth. The STRAAD engineers primary task after being given a damaged aircraft assignment was to inspect the aircraft and prepare a damage report. This report was submitted to the STRAAD Commander and contained a detailed description of the damage, labor hour estimate for repair, and repair recommendations. The recommendations included location of repair (Subic Bay, Atsugi, Japan, or US) and type of repair. Reports were submitted to the STRAAD Commander for his approval. STRAAD engineers then designed and supervised repairs performed at Cubi Point.
Ten structural engineers from LTV Aerospace were assigned to the STRAAD program during the eight year time period of 1966 through 1973 covering most of the span of the Vietnam War. These engineers and their period of service are listed in the following table.
List of STRAAD Engineers
| | | | |
| --- | --- | --- | --- |
| Period | Name | Months | |
| 1-66 to 7-66 | Ed Grube | 6 | |
| 7-66 to 1-67 | Charles Gross | 6 | |
| 1-67 to 6-67 | Jim Smith | 6 | |
| 6-67 to 12-67 | Charles Foreman | 6 | |
| 12-67 to 3-68 | Dan McGary | 3 | |
| 3-68 to 6-69 | Everett Smiley | 15 | |
| 6-69 to 12-70 | Charles Etheridge | 18 | |
| 11-70 to 4-71 | Joe Williams | 6 | |
| 4-71 to 10-72 | Steve Yarbrough | 18 | |
| 11-72 to 12-73 | Bob Allen | 13 | |
Personal stories of their STRAAD tour experiences have been obtained from six of the LTV engineers.