The war was winding down so many Marines were being processed for discharge. Such was the case for me. I received my separation at the Great Lakes Naval Station near Chicago, Illinois. I returned to my home in St. Louis and went to work for McDonnell Aircraft. McDonnell was in production on the F2H Banshee, so I worked in Field Service Flight Operations for them. Prior to my Marine Corps enlistment, I had worked for McDonnell as a mail boy. I was the 167th employee hired by McDonnell.
In May 1949, I saw the XF7U-1 on the cover of the St. Louis Sunday Parade Magazine and fell in love with it. I wrote Vought, who had recently relocated from Stratford, Connecticut, to Dallas, Texas. Their response was, "Come on down." In June 1949, I joined Vought as a Plane Captain in Airport Operations. The F4U was still in production so it was like being back in the Marines—getting airplanes ready for combat. The models in production were the F4U-5N, F4U-5NL, and F4U-7 (French) where production ended.
The F6U-1 Pirates were partially assembled in Stratford and completed in Dallas. The runway at Hensley Field was too short for safe take-off and landings, so the F6U's had their normal pre-flight checks performed in Dallas, including a pilot's runway check. The pilot would simulate a take-off run and then abort to burn in the brakes. The F6U's were then loaded on a flatbed trailer and taken to Ardmore to complete their flight acceptance and delivery. The XF7U-1's were also at Ardmore for flight test work, including afterburner evaluation.
The first production F7U-1 arrived at the airport and we towed the airplane out of final assembly. The runway extension was now complete at Hensley so the first F7U-1 was flown to Ardmore by Paul Thayer, and I was the plane captain. The Ardmore story is a whole other book.
The first production F7U-1 was flight accepted and prepared for delivery. Captain Lynn Helms, U.S. Marine Corps arrived at Vought, made his delivery check flight and proceeded to deliver the aircraft to Patuxent River, Maryland. En route, he developed a fuel pressure problem, so he landed in Meridian, Mississippi. Al Brill quickly prepared the Learstar for departure, with Jerry Scharfenberger, me, and two other mechanics on board. As we arrived in Meridian, word came that test pilot Billy Sunday had crashed on the Hensley runway in an F7U-3, and had been killed. Al and Jerry returned to Dallas immediately. The F7U-1 was repaired (a faulty boost pump) and Captain Helms taxied his F7U-1 to the end of the runway, lit both afterburners—(This set the adjacent woods on fire.)—and took off for Pax River. We returned to Dallas on commercial aircraft.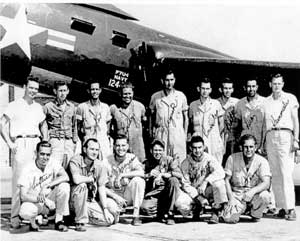 The F7U-1 underwent many engine/afterburner configurations until the Navy decided to accept the planes with no afterburners. This was a big reduction in performance. The 12th and 13th F7U-1's off the line were designated for the "Blue Angels." They were delivered and flew some air shows quite successfully. Back in Dallas, the #6 production F7U-1 had completed its demonstration program and was being prepared for delivery (removal of all instrumentation) when a decision was made to enter the F7U-1 in the Thompson Trophy Races in Dayton, Ohio. Vought pilot, Jack Walton, flew the mock course (with simulated pylons) in Dallas and determined that the plane could indeed break the speed record. So after the plane was flight accepted, Cdr. Ronnie Puckett flew practice rounds in the DFW area. Then he and Cdr. "Red" Brooks took two F7U-1's to Dayton. You bet I went too. The crowds really were taken with the F7U. Cdr. Puckett flew the course and after landing and taxiing to the grandstand, he would shift the two-position landing gear from the landing position to the take-off position while the airplane was rolling on the tarmac. The crowd went wild. Cdr. Brooks delivered his F7U-1 to NAS Memphis and Cdr. Puckett delivered his to NAS Jacksonville.
F7U-3 aircraft were now on the production line and soon progressed into flight operations. Again the engines were the major problem, so the production order was small.
The F8U Crusader Program was a great success from the day John Konrad flew the initial flight. Senator John Glenn flew the photographic model of the Crusader cross country, west to east, at a record speed that still stands. The Crusader's main deviation from standard was that it had a two-position wing, one position for take-off and another for landing.
After delivery of the F8 series aircraft (The F8U-3 contract was canceled), there was a downtime in production. I was transferred to the Michigan Division Lance Program. I first served as on-site QA representative for Rocketdyne. There I received a personal commendation from Col. Mehlinger of the U.S. Army Missile Command. I later transferred to Chance Vought's Michigan Division as Chief of Quality for about four years. While in Michigan, I worked with others who had been transferred from the Dallas organization. Some I remember fondly are Bob Kiefer, Charles Brunow, Bob Stewart, Jim Lengen, Jimmy Littlejohn, Andy Patton, Ken Murty, Jim Green, George Southerland, Bob Lichenstein, Pat O'Connor Mishko, Jim Parker, Doug Foster, and many others. I worked for Teal Barbatelli and John Ryan. The Michigan story is a whole other book.
Upon initiation of what would soon be known as Ling-Temco-Vought, Inc., the A-7 Program offered a fresh challenge. I transferred back to Dallas to become Superintendent of the Airport, then Airport Manager. I worked for Herb Epstein, Industrial Services Director, then George Gasper, who was Director of A-7 Manufacturing.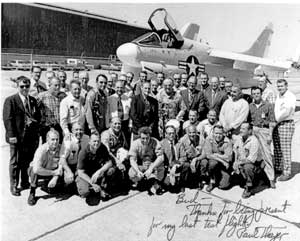 The Airport Team worked tirelessly to solve the many start-up problems associated with the A-7E&D Programs. Daily meetings were held with Jerry Scharfenberger (Field Engineer), Tony Hannawacker (Quality), Joe Engle (Pilot Staff), and Bob Parow/Warren Andrews (Production Control). Representatives from the A-7 Program Office, Manufacturing Engineering, and the Navy Program Office provided the expertise and actions to solve the problems in order for the planes to be delivered on schedule. Jim Lengen was the Superintendent of Final Assembly, Ed Roberts had Airport Avionics, and I had Flight Operations and Delivery.
A-7B&C models were being returned to Vought for conversion to TA-7C models—single to two-place. The returning planes were defueled, engine and nose sections removed, and sent to final assembly, where the two-cockpit nose was installed. If my memory serves me, we did sixty-three of these conversions. Following final assembly operations, the TA-7C's returned to the Airport for flight and delivery operations. Joe Korkmas requested that he and I be allowed to fly second seat in these models. The Navy granted permission, but neither of us could get the timing right to make the flight.
About this time, Vought got a contract to refurbish twenty-five F8U models for the Philippine Government. Vought Overhaul and Modifications Department was organized. John Dyer was named Director, Harry Diehl, Manager, Jim Lengen, Superintendent, and Tom Tune, Q/A Manager. The F8 aircraft were trucked from Davis-Monthan to Dallas, refurbished in Building 16, and had flight operations and delivery in my hangar (Bldg. 76). All airplanes were flown to North Island, California, by Don Wilson. They were then loaded on carriers and transported to the Philippines. Field Service provided the technical support in-country.
There are so many stories that could be told—all tend to make up the fabric of three decades of airport operations. Looking back, I am so thankful to have had the opportunity to work on airplanes that were state of the art in design and manufacture – tested, flown and accepted by some of the most talented and dedicated personnel ever assembled. Testimony to this dedication is going on every day by the Vought Heritage Retiree effort in Building 76. What beautiful restoration work is being accomplished on the A-7B, F6U-1, F8U-1, RF-8G, and VE-7 Aircraft, and the Regulus II Missile.
I retired in 1980 after completing 31 years of service to the Company. However, my career did not end there. During the A-7 Program years, Bill Plumlee, Director of Manufacturing for General Dynamics, visited LTV's airport operations to determine how the Vought programs were running. The F-16 was just getting into production, so Bill and I met for an exchange of technical information. Later, after I had retired, Bill called me to see if I would be interested in working for General Dynamics Services Company handling overseas assignments for F-16's. I went to Pakistan, eventually serving as Program Manager for the F-16 operation in Pakistan for two years. We taught the Pakistanis to support and maintain the F-16. We also built a computerized depot and a precision measuring lab for calibration of equipment. This effort was funded by the U.S. Air Force.
I was fortunate enough to be able to take my wife, Grace, with me to Pakistan. This was fortunate for our whole team because she is a Registered Nurse and took care of our team on many occasions. Most medicines were available "downtown" and the Chemists would sell her anything. We lived on a Pakistani military base. The PAF had built six new bungalows for our married team members, and four 4-plex houses for our single engineers and technicians. We were able to purchase food from the Embassy in Islamabad and have it trucked to Sargodha. It was very expensive, and we tried to live off the local economy as much as possible. We had a talented group of people. Our talents and imaginations were put to the test to find entertainment and to keep our sanity. We built a state-of-the-art tennis court and many hours were spent there. It was an especially exciting day when we were able to get two television stations cabled into our homes. We had a room full of tapes and hired a Pakistani man to keep it running twelve hours a day, seven days a week. All of our tapes were from the Dallas/Ft. Worth stations and air expedited to us. Sporting events such as the Super Bowl, World Series, etc. came about two weeks after the actual event, but were very enjoyable, even if we happened to know the outcome. Grace and I both consider those two years as some of the best of our lives. We made many friends with whom we are still in contact.
The F-16's were flown from Ft. Worth to Iceland to Ramstein, Germany, then to Saudi Arabia by USAF pilots. PAF pilots and our techs and plane captains were flown to Dhahran in Lockheed C-130's. The PAF pilots would fly the F-16's to Sargodha and our crew would return via C-130. PAF pilots trained on the two-place F-16's "D" models, and then soloed in the F-16 "C" models. There are many stories that could be told here, but one that stands out involves the loss of an F-16 (but not the pilot) and took place on a night training mission. The pilot made his normal approach for landing, touched down, and was rolling out when he felt the plane make contact with something on the runway. It turned out to be a 300-pound wild boar. The boar and the F-16 were totaled, but the pilot didn't get a scratch. The PAF tried many experiments to keep boar off the runway, one of which was to play American rock music. I guess they thought that should keep anything away. Nothing of this nature worked. What did work was to install a single wire electric fence around the perimeter of the runway. There was never another incident. Many of the young F-16 pilots of those days are now Air Vice Marshals.
After two years, I was assigned to the Navy F-16, which had the Top Gun operations at Miramar and Key West. I was in charge of the Key West operation. There were twelve aircraft on the East Coast and twelve on the West Coast. Eventually, the planes were stored at Davis Monthan, due to lack of funding and spare parts. I retired from General Dynamics in 1989 (this time for good).
The flight crew puts their trust and confidence in the ground maintenance crew each time they sign the aircraft acceptance and enter the cabin to prepare for flight. The plane captain has tested all of the airplane systems and made adjustments (if required) so that they meet the required specifications. The airplane must be prepared as if the preparer were going to do the flying. Over the years, and with many, many launches, I have never had a pilot lost, or even one who had to eject or walk home. This is as it should be.
Now my wife, Grace, and I are enjoying the rewards of retirement—playing golf with friends and family activities with children, grandchildren, and great-grandchildren.