The East Texas oil field is discovered.

On July 21st aVought O2U was flown with the cockpit sealed and hooded on an instrument flight of nearly 1000 miles.

On December 30th Dr. Robert H. Goddard fired a liquid-fueled rocket to 2000 feet altitude and a speed of 500 mph in New Mexico.

Astronomers identified the planet Pluto.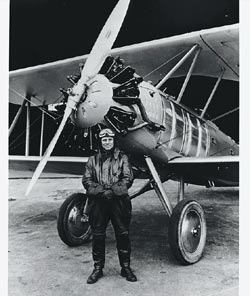 Jimmy Doolittle flew an O2U Corsair forThe Guggenheim Laboratory to develop cross-country flying instruments and navigation aids.
Other Facts from 1930
President:Herbert Hoover

Average annual income

$1,973

New car

$610

Loaf of bread

$0.09

Gallon of milk

$0.10

Gallon of gas

$0.10

Dow Jones Average 237
Songs From 1930
"Embraceable You"
"Body and Soul"