Rex B. Beisel, A. L. MacClain and F. M. Thomas were awarded the Wright Brothers Medal (SAE) for authorship of the best paper on Aerodynamics for 1934 titled"Cowling and Cooling of Radial Air-cooled Aircraft Engines".

Sikorsky Aviation Corp produces the S-42 "Clipper", which pioneers Pan American Airway's Pacific service.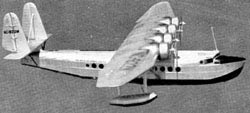 The Sikorsky S-42 flying boat of
Pan American Airways.
Songs From 1934
"Blue Moon"
"Santa Claus is coming to Town"
Other Facts from 1934
President: Franklin D. Roosevelt

Average annual income

$1,601

New car

$625

Loaf of bread

$0.08

Gallon of milk

$0.45

Gallon of gas

$0.10

Dow Jones Average 98