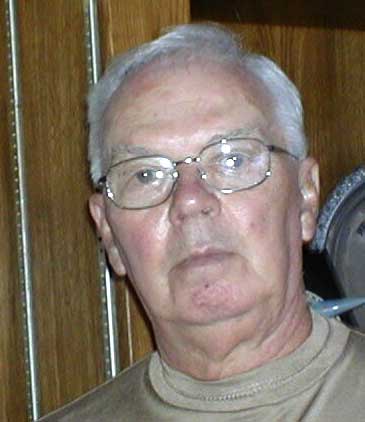 Bud was born in St. Louis, Missouri, on July 2, 1924. He enlisted in the U.S. Marine Corps in May of 1942 and received his recruit training at the Marine Corps Recruit Depot in San Diego. California. Following "Boot Camp," he attended the Naval Air Technical Training Center in Jacksonville, Florida.
Upon completion of Aviation Machinist Mate School, he was transferred back to San Diego for further transfer overseas in the South Pacific combat zone. He joined VMF 21, The Blacksheep Squadron on Russell Island, Marine Air Group 21, commanded by Major Greg Boyington (Congressional Medal of Honor winner).
After completion of his tour of duty in the Solomon Islands, he returned to the United States and continued his aviation training at Naval Air Technical Center, Chicago, Illinois.
Following victory in Japan, he returned to civilian life working at McDonnell Aircraft in St. Louis. He worked in Field Service on the Phantom and early Banshee aircraft.
In June 1949, Bud joined Vought and rose from Plane Captain to Airport Manager in 31 years of service. Bud provided "hands-on" effort in the delivery of F4U-5N, 5NL, 7 (French), and an attack version of the Corsair; the F6U-1 Pirate, F7U-1 Cutlass, F7U-3 all models; F8U-1 Crusader all models, including the F8U-1P Photo Model; and A7A, B, D & E Corsair II and the two-place TA7C. Bud also worked on the Lance Missile Development Program, both at Rocketdyne and various management positions in the Quality Department at the Michigan Division. Bud retired from Vought in1980.
After retiring from Vought, Bud had the opportunity to work for General Dynamics and worked his way up to Manager of the In-Country F-16 Program in Pakistan. After two years in Pakistan he returned to the USA and was assigned to the Navy F-16 Program. The Navy received twenty-four F-16's, twelve on the west coast at Miramar and twelve on the east coast at Key West. Bud managed the east coast operation. The popular name of this program was "Top Gun." The Navy F-16 aircraft were used as adversary aircraft for Navy Fighter Pilot Training.
Bud retired for good in 1988.