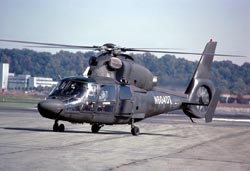 The Panther 800 was offered to the Army as a light utility helicopter. It is a variant of the Aerospatiale AS-565 and a sister ship to the Coast Guard HH-65. The Panther 800 had two Army T800 engines and an improved, state-of-the art cockpit.
The helicopter was an off-the-shelf affordable solution to the Army's light utility helicopter needs. Its principal advantages were its speed, agility, maintainability and sustained performance at high elevations in hot temperatures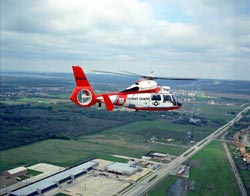 LTV, as the program leader, would integrate the engine and rotor systems and avionics and airframe. Other team members were:
Aerospatiale Helicopter Corp. for final assembly and flight testing
IBM for computerized flight control system
Light helicopter Turbine Engine Co. For the T800 engine
The Panther 800 had a gross weight of 9,400 pounds and could cruse at speeds of 178 mph and dash at speeds up to 195 mph. It could fly for four hours at 178 mph and had a range of more than 550 miles.
Helicopters: