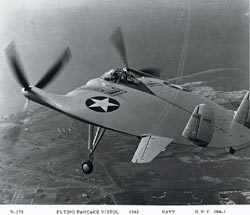 Charles H. Zimmerman promoted his "Flying Pancake" design from 1933 to 1937 while working for the National Advisory Committee for Aeronautics (NACA) at Langley Field, Virginia. He filed for a design patent on April 30, 1935 and was granted patent #2,108,093 on February 14, 1938. With the concurrence of NACA, Zimmerman approached United Aircraft Corporation with his novel design in 1937 and joined United's Chance Vought Aircraft Division in that year as project engineer. By August 15, 1939, drafting, engineering design, and aerodynamic studies were far enough along for Vought to submit a proposal to the U.S. Navy for a full-scale prototype of the V-173. The U.S. Navy placed a contract for one V-173 on May 4, 1940. First flight of the airplane was on November 23, 1942. Success!!
In September, 1941 the Navy awarded Chance Vought Aircraft a contract to design and build two military versions of the V-173, which were later designated XF5U-1. In July, 1944 the V-173 contract was consolidated with the XF5U-1 contract. When that contract was canceled in May, 1947 the V-173 was placed in storage at Norfolk Naval Air Station, Virginia.
The V-173 made a total of 199 flights and 131 flight hours before the contract was canceled.
V-173:
Advanced Design Concept
The Aircraft