Motors and Structure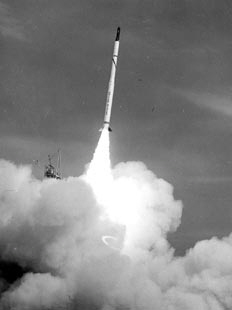 The Scout vehicle used four solid-propellant rocket motors. The first three motors boosted the payload to orbital altitude, and the fourth motor injected the payload into the desired orbit. These four motors were named after the stars Algol, Castor, Antares, and Altair. The Algol and Castor motors had steel housings, but the smaller Antares and Altair motors had fiberglass housings. The performance characteristics of these motors are listed in the following table:
Stage

Motor

BurnTime
(sec)

Average Thrust
(lb./Newtons)

Weight
(lb./Kg)

1

Algol

56.11

105,112 / 467,164

31,355 / 14,215

2

Castor

35.32

63,971 / 284,316

9,775 / 4,433

3

Antares

43.96

18,698 / 83,100

3,074 / 1,394

4

Altair

29.30

5,713 / 25,390

664 / 301
Cylindrical or conical structural sections were attached to the forward and aft ends of the first-, second-, and third-stage motors. These sections provided the means for fastening the stages together, and housed the necessary electrical and electronic equipment. The fourth stage was mounted on a spin table so that it could get spun up for stability before separation from the third stage. The payload was attached to the top of the fourth stage. Sometimes the fourth stage motor would remain with the payload throughout its mission, or, if necessary for any particular mission, a separation system was available to separate the payload from the fourth stage motor. A heat shield covered the payload and the fourth stage motor to protect them from atmospheric heating during boost. Electrical wiring between sections of the vehicle was routed under fiberglass tunnels attached to the Algol, Castor, and Antares motor cases.
SCOUT LAUNCH VEHICLE DESCRIPTION
Motors and Structure
Flight Control
Sequencing the Flight Events
Stage Separation
Destruct System and Radar Beacon Command Destruct
Electrical Power
Launch History
Launch List