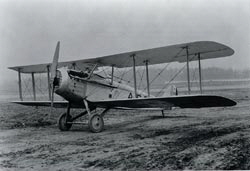 After the lack of success for the VE-8 and VE-10, the energetic young engineer/executive immediately went after follow-up contracts to keep his little factory (now moved to a ground-level plant) operating. He knew his VE-7 was a winner and set out to prove it. Although the Army was his first customer, the Navy also became interested in his plane.
The Navy had ordered its initial 20 VE-7ís in October, 1919, and the first one was delivered the following year, on May 28th.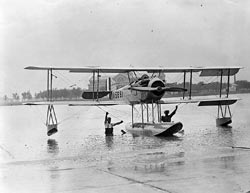 From that date through the early 1990ís, there never was a day when there was not a Vought airplane on a U.S. Navy aircraft carrier, battleship, cruiser or destroyer. Vought built airplanes for the Navy and Marines through the 1980ís.
The Navy version of the VE-7 fitted with the Wright-Hispano 180hp E engine, was built by Vought and by the Naval Aircraft Factory (NAF).Procured originally for training purposes, the performance of the Navy VE-7 was such that it was used for a great variety of work under a number of sub-designations:
VE-7 - Initial production version standard two-seat trainer, of which the U.S. Navy received 20 from Vought and 16 from the NAF
VE-7F/VE-7SF - Equipped with Vickers machine guns
VE-7G - Gunnery trainer with a synchronized Vickers machine gun forward and a 7.62-mm (0.3-in) Lewis machine gun on a trainable mount in rear cockpit; 19 built by NAF
VE-7GF -VE-7G with flotation gear for ditching at sea
VE-7H - Single-float seaplane version, nine built by NAF
VE-7S - Conversion to single-seat fighter with Vickers machine gun and SE-1345 radio set
VE-7FS - Single-seat fighter version with flotation gear; four built by Vought and 24 built by NAF
VE-7SH - Single floatplane conversion of VE-7SF
In the observation models, the observer rode in the forward cockpit, a reversion to the early World War I practice. The VE-7 made a nimble single-seat fighter, a role in which it served as first-line equipment until 1926, with the pilot occupying the former rear cockpit.
VE-7 landplanes operating over water were frequently fitted with emergency flotation gear of a design developed at the RAF Experimental Station on the Isle of Grain during World War I. Although this feature had been tested on earlier experimental U. S. Navy aircraft, the VE-7ís were the first U.S. service models to be so equipped. To prevent nosing over when alighting on water, a Grain-developed hydrovane was installed ahead of the wheels.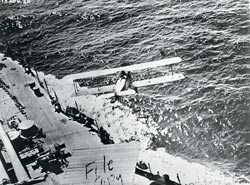 The seaplane versions were the standard observation and scouting aircraft of the fleet in the early post-war years, being carried aboard battleships and cruisers and launched by catapult. A larger vertical fin was frequently installed on the seaplane versions and was sometimes left in place when the airplane was temporarily converted to a land plane.
More about the VE-7:
The Aircraft That Got a Company off the Ground
VE-7 Production
Additional VE-7s
VE-7 as a History Maker