Events - 1934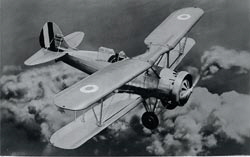 In 1934, flight tests were completed on a new singleseat Corsair fighter having high performance and a long cruising range. The airplane was designated the V-80 and was armed with four fixed machine guns and two bomb racks. The land version had a top speed of 197 miles per hour and a cruising range of 760 miles. The V-80 was a development of the two-seat Corsair, using the same framework, fuselage, wings, tail, landing gear, and many other items of the equipment, all of which were interchangeable between the two types. The powerplant was a 700-horsepower Hornet. Three V-80Pís were sold to Peru, one to Argentina, and eight to Germany as V-85Gís (who used them to ferry air mail to and from the S.S. Bremen and S.S. Europa). Again the letter suffix identified the customer.
One V-90 was built as a demonstrator for foreign sales, resulting in the sale of 21 V-92Cís to China, 12 V-93Sís to Siam (72 built by Siam under license), one V-97 to Mexico, 10 V-99Mís to Mexico, and one V-100 to Mexico. In 1978, a V93, the oldest existing Vought Aircraft, was on display in the Royal Thai Aviation Museum.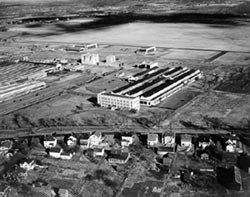 Phillip G. Johnson, President of Chance Vought Corporationís parent entity, the United Aircraft & Transport Corporation, proposed to the stockholders in April of 1934 to separate the manufacturing and transportation subsidiaries to conform with the bill passed by Congress that outlawed air mail deliveries by aircraft manufacturers. This reorganization took effect in May of that year and resulted in the formation of three new independent corporations: one to acquire stocks of the transport companies (United Airlines), another to acquire the stocks of the eastern equipment companies (United Aircraft Corp.), and a third to acquire the stocks of the western equipment companies (Boeing). These corporations replaced the previous United Aircraft & Transport Corporation. Chance Vought Corporation was included among the companies which formed the new United Aircraft Corporation. The other companies were: Northrop Aircraft Corporation, Hamilton Standard Propellers Corporation, Pratt & Whitney Aircraft Company, United Aircraft Exports Inc., United Airports of Connecticut Inc., and the Sikorsky Aviation Corporation.
In 1934 J.J. Gaffney was promoted to Secretary-Treasurer, replacing E.K. Hubbard, and Joseph L. McClane became Factory Manager. Thomas A. Conlan was appointed Assistant Secretary and Joseph M. Barr was appointed Assistant Treasurer.
Events for 1931 - 1938
1931 - 1933
1934
1935 - 1937
1938