Events - 1935 - 1937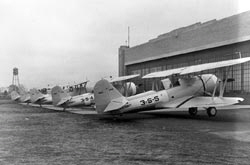 The corporation was awarded a contract for 84 scout/bombing planes for the United States Navy on January 4, 1935. The contract amounted to $1,804,800, exclusive of engines and propellers. That same month, the corporation announced the planned production of a new scout/bomber to meet this contract. This model was to be considerably faster than any airplane previously made in East Hartford. It was an airplane which marked many Chance Vought Corporation firsts, including the first airplane with an all-metal cowling, and the first to be powered by the Pratt & Whitney Twin Wasp Junior engine, which developed 700 horsepower. Designated as the SBU-1, the airplane was the result of three years of research. It was equipped with the latest development in cowling, the. new cowl having adjustable trailing edge flaps, based on principles stated in a technical paper by A. Lewis MacClain, Rex B. Beisel, and F. M. Thomas of United Aircraft Corporation. The airplane was to have a speed in excess of 200 miles per hour and could operate from U.S. Navy aircraft carriers. The SBU-1 differed from previous Corsair types, particularly in aerodynamic "cleanness" provided by a completely enclosed cabin, large wing and tail fillets, and cuffs on the struts. External tail bracing was eliminated and the usual inter-aileron struts were concealed. The contract called for the 84 SBU-1's to be completed by the end of 1936.
In January 1935 Rex B. Beisel, Assistant Chief Engineer of Chance Vought Aircraft Corporation, was one of three United Aircraft men to win both the Manley and the Wright medals for the outstanding aircraft technical paper of the year. The paper concerned the cowling and cooling of radial aircraft engines. The medals were presented at a banquet in Detroit by the Society of Automotive Engineers.
Features incorporated in the new cowling, part of which was designed by Rex B. Beisel, included:
Pressure baffles attached to the engine to direct cooling air against the cylinders.
The cowling itself shaped for best air-flow and minimum resistance (drag).
Control flaps attached to the cowl, which allowed the pilot to regulate the amount of cooling air to pass over the cylinders.
The effect of these features was to increase top speed in level flight and make it possible to use full throttle in climbing without overheating the engine. All these improvements were incorporated in the SBU-1 airplane.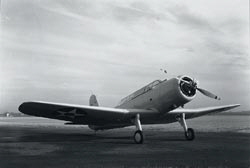 Management changes in 1935 included changing the titles of three executives: Eugene E. Wilson (from President to General Manager), Charles J. McCarthy (from Vice-President & Chief Engineer to Engineer Manager), and J.J. Gaffney (from Secretary-Treasurer to Assistant Secretary-Treasurer). Joseph. McClane was replaced by J.M. Barr as Factory Manager.
In 1936 the company completed and tested its first monoplane, the XSB2U-1.
In 1937 Rensselaer W. Clark was elected Vice President of United Aircraft Corporation airplane divisions and General Manager of Chance Vought Corporation and Sikorsky Divisions of United Aircraft.
Events for 1931 - 1938
1931 - 1933
1934
1935 - 1937
1938