By early March 1951 both FTV-2 and FTV-3 were ready to begin the new reliability test program.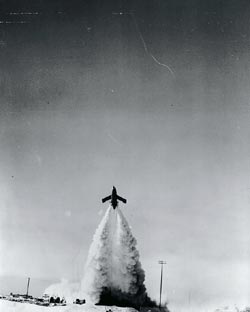 On 29 March 1951, 18 weeks after the crash of FTV-1, FTV-2 was ready for flight. The same people were assigned as ABLE, BAKER and CHARLIE. The missile lifted off at 170 knots and was directed away from the main base facilities. Throttle was reduced to 95% rpm and a climb to 2300 feet was completed at 250 knots. The cross-wind and down-wind legs were executed smoothly. Near the end of the down-wind leg several wind gusts hit the missile causing some roll instability which was corrected by the autopilot. The turn to the base-leg was uneventful and the missile went on a final approach at 220 knots. Touchdown was smooth and only a quarter mile past the selected spot. When the nose gear touched down, the drag chute was released, whereupon it blossomed and then collapsed. Differential braking was tried briefly at 170 knots but was quickly abandoned since the brakes were not designed for such heavy use. Once the missile had slowed to 50 knots the brakes were again selected and the missile was brought to a stop at the three-and-one-quarter-mile mark. The drag chute failure was the only malfunction in an otherwise perfect operation. The first flight of FTV-2 was the beginning of a string of 13 successful flights over the next eight months.
The first flight with a Navy pilot controlling a Regulus missile took place on June 12 1951 when a Navy lieutenant flew as the ABLE pilot.
On 17 November 1951, five days short of a year since the ill-fated first flight attempt of FTV-1, FTV-5 made the first high-speed , high-altitude flight, climbing above 25,000 feet under out-of-sight controller directions. Maximum speed was Mach 0.93 and altitude was 26,500 feet. The concept of a remote control, high subsonic missile was proven feasible.
More Regulus I:
General Characteristics for an Interim Guided Missile
Able, Backer, Charlie and FTV-1
FTV-2
Operation Splash and FTV-3
Regulus I and II
Regulus I Subsystems
Airframe, Engine and Fuel Systems
Autopilot, Radio Control, Guidance and Instrumentation
Landing Gear and Hydraulic Systems
Nose Boom, Wing and Fin Fold
Warheads
Launch Slippers, Parabrake, Smoke Systems and Jato
Interesting Statistics